See more articles
Supra's Sunsport 20V: Affordable Luxury
With such a long list of standard features, you won't need any upgrades on this 20 foot towboat.
Back in the early 20th century, General Motors' chairman Alfred P. Sloan created the "ladder" of makes and models, which let buyers choose from GM's product portfolio based on their level of income. Chevrolets were geared toward entry level buyers, who could move up the product ladder and on to a Pontiac, then an Oldsmobile or Buick and finally, at the peak of their earning years, a Cadillac.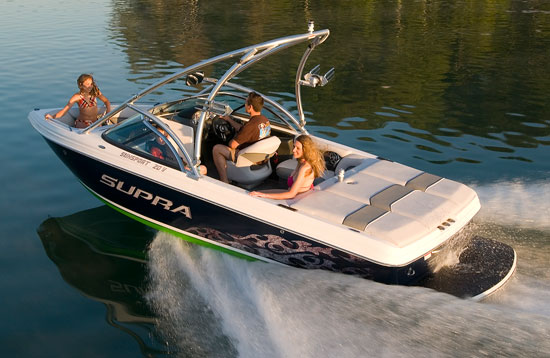 Some of those ladder rungs no longer exist within GM, but the ladder model is present in other markets, including recreational boats. Brunswick has Bayliner for entry level buyers and Sea Ray for buyers with more disposable income. In the tow boat market, Skier's Choice has its Moomba line for value-oriented customers and Supra for more discriminating buyers.

The better news is you can realistically get away with an un-optioned boat and still have an enormously capable and well-equipped tow boat. Here's proof.

For the base price you get some key equipment. For example, it comes with a 325-horsepower 5.7-liter Indmar V8, which is plenty for a 3,100-pound boat. The engine also is prepped with GPS-informed cruise control. The boat also comes with a color-matched single-axle trailer with torsion bar suspension, disc brakes, a swing-away tongue and LED lighting. No more burned-out bulbs to repair before you set out.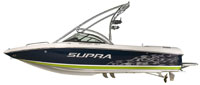 Of course, no one buys a boat because of the trailer details. They buy a boat for its amenities, and the Sunsport 20V comes standard with lots of them. For example, the wakeboarders in your family will love the Gravity III ballast system, which features faster filling and emptying thanks to improved pumps. They'll also love the standard towing tower and Titan swivel board racks, which are often optional features. The drop-V keel design, multisport wake plate and ski pylon complete also mean the Sunsport 20V makes a fine boat for mixed disciplines.

"The Sunsport 20V is an outstanding crossover boat that gives you excellent wakeboarding wakes and also a phenomenal slalom wake as well," said Skier's Choice president Rick Tinker. "This can be done easily with just a touch of the wake plate and the emptying of ballast!"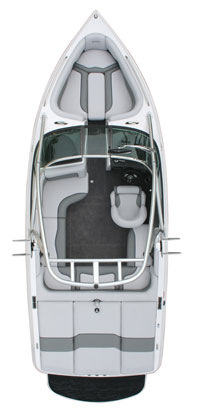 But here's a secret. You don't have to spend a fortune to get a Supra. The Sunsport 20V is a great way to get into a luxury tow boat for a reasonable amount of money. How reasonable? How about an MSRP of $55,995 for a base model?

The luxury aspect of the 20V begins in the cockpit, specifically at the helm. The padded-and-stitched dashboard, one of the prettiest we've seen, is fitted with a five-gauge instrument cluster that looks as though it were machined from a solid chunk of billet. Beautifully crafted, the cluster displays speed, rpm, fluid temperatures and pressures, and has a gauge for the position of the wake plate. The throttle lever falls readily to hand and the switches for the ballast pumps are conveniently located and arranged according to tank location.

Naturally, every rider or skier wants a thumping stereo package, and again, the best part about the 20V is that you don't have to pay extra to get a competent "system." For example, the 20V comes with an AM/FM stereo, which also is SiriusXM compatible. The glove box also has leads to plug in your iPod or MP3 player. Oh, yes, it also comes with an amplifier and six Kicker speakers throughout the cockpit and on the tower.

In terms of seating arrangements, the 20V is top notch. The bow comes standard with a filler cushion. The cockpit also comes with Supra's novel multi-position rear facing seating, which lets more people face the action behind the boat. You also get docking lights, pull-up cleats with the Supra logo, built in coolers, courtesy lighting and a fiberglass swim platform with a nonskid mat and grab rails.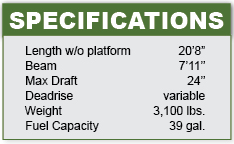 Now, at the risk of being redundant, it's important to point out that every feature listed in this story is standard. We're fairly certain Alfred P. Sloan would never build a boat with so many standard features that buyers wouldn't need any options, but we're glad Supra has. Well done.

For more information, visit the Supra website.



Editor's Note: Brett Becker is a freelance writer based in Ventura, CA. He covers the marine, automotive and racing industries for various print and web titles.