See more articles
Swan 601: Swan's New Racing One Design Class
Swan 601 follows the spirit of the Swan 45.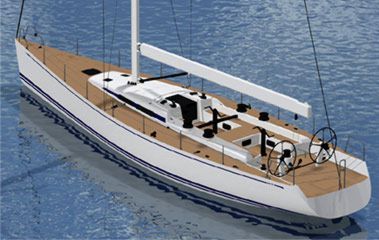 Having experienced the success of the Swan 45, Nautor realised that the temptation of a one design Swan 60 was too much. Normally, boats of this size are all custom-built to different demands and specifications, so racing takes place under handicap systems. It is more often a race against time rather than a direct boat-against-boat race. This is the beauty of one-design competition, that the first one to cross the finish line is also the one to win the race overall.

Nautor acknowledges a niche in the market for a 60-foot performance sailing yacht. The Swan 45 has allowed Nautor's Swan to enter a completely new market, with a yacht that appeals to the sporty kind of owner who still wishes to own a beautiful boat. Few yachts are capable of appealing to both elements at the same time. With five advance orders before final designs were even finalised, Nautor's Swan is confident that the Swan 601 has already generated some considerable excitement in the sailing world.

Nautor is giving the racing owners market the chance to buy a Swan, which can fulfil their racing needs, and allow them to sail in high-level competitive regattas. Whilst ensuring the added values of owning a Swan, such as resale value, quality, tradition, and so forth, are still at the heart of the model.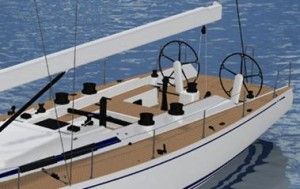 The Swan 601 Class will be organised as a global one-design class. The concept is to have a worldwide class that participates in major events on the international sailing calendar. In the past, classes run under this system have fallen foul of the level of investment required by the owners to manage the racing programme. In order to avoid this problem, the Swan 601 Class select a limited number of events every season, mostly concentrated in one continent at a time. With this in mind, a provisional calendar has been devised as follows:

2004
Launch of Swan 601 at the Swan Cup
Non-class racing at Voiles de Saint Tropez, Middle Sea Race

2005
Year 1 / USA
Key West Regatta
Spring Series
Newport to Bermuda Race
Annapolis

2006
Year 2 / Europe

2007

Year 3 / Australia & New Zealand

Design and construction

The hull shape, drawn by German Frers, is designed with ultimate speed in mind. With a good quick hull, this model is more racing oriented than past Swans of similar size, which means of course that her volume is lower allowing the model to be light, with the final weight at 18 tonnes.

Frers is well known not only for history with Nautor' Swan as head of yacht design, but also for his work on the America's Cup and the Volvo Ocean Race. One of the benefits of the Nautor Challenge competing in the Volvo Ocean Race were the new skills and experience that the company's build team gained from constructing the Frers-designed Amer Sports One. And although Nautor will never produce anything as spartan or as uncomfortable as a Volvo Ocean 60, it has certainly formed part of the inspiration for the Swan 601.

Like the VO60, the Swan 601 is very light for her size, and built for sailing at high speed. But there the similarities end. The Swan 601 is of a more hi-tech construction than the Volvo race boats, incorporating more carbon fibre in her structure. The model will benefit from Sprint construction techniques for hull and deck (the Swan 45's deck also uses Sprint). Sprint stands for ?SP Resin Infusion Technology' the latest development in hi-tech composite construction from British company, SP Systems.



One of the advantages of Sprint is its huge strength to weight ratio, which enables the hull to be built not only lighter with very large safety margins, but also making the Swan 601 more than capable of coping with the worst of sailing conditions. As a result of this technology, a new oven has recently been built at the Nautor Yard in Finland to accommodate the need for very high curing temperatures. This has been a substantial investment for Nautor allowing the company to take technology to the next level. At 26m long, 10m wide, and 4m tall, it is arguably the largest oven of its type in Northern Europe.

With any yacht, there is always a tight balance between high performance and luxury. It has been the careful management of these priorities that has marked Nautor's Swan as market leaders in the quality yacht manufacturer industry. Although with the Swan 601 the concessions to cruising are fewer than with the Swan 60, she will be perfectly comfortable and capable of berthing six people in the comfort and elegance that is expected of every Swan. Double that number is possible under racing situations, if the central cabin is brought into use.

Although the Swan 601 is designed for close-quarters racing, owners will be able to specify the yacht to their own preferences using a number of internal and deck layout options, including an open cockpit and a bridge deck option. Whilst offering a wide combination of options, Nautor will ensure the key elements for one design are fixed. The result will be a Swan 601 Class that can enjoy very close racing without being restricted by some of the limitations of a pure one-design racer, which tends to make few concessions to cruising comfort.

The carbon rig dispenses with the complexities of runners, opting instead for a simple, two-swept-back-spreader configuration. The jib is non-overlapping, for aesthetic and performance reasons.
Another allowance for beauty is the use of gel coat over the carbon epoxy hull. This is not easy to achieve, but has come about through endless research between Nautor's Swan and SP Systems. This gel coat gives the perfect finish and because a female mould is used to build the hull, reduces the need to add extra weight with filler later.

One of the problems with carbon-fibre construction is the way that noise from winches and other creak and groans from the hull or rig can reverberate around the interior - carbon tends to amplify unwanted noises. However Nautor was aware of this issue throughout the design process and utilised lessons learnt with the Swan 70, Swan 80 and Swan 100. The Swan 601 has dispensed with the option of using cork lining as noise reduction material because it would add too much weight, but the interior has been designed with noise reduction very much in mind. By comparison with most carbon yachts the Swan 601 will be relatively quiet and still a very pleasant yacht for long-distance cruising. And one of the fastest, too!

Philippe Meyer explains why he was first to place an order for the 601



I was looking for a racer/cruiser that would accomplish my objective of 60 per cent racing and 40 per cent cruising. I had been contemplating building a one-off boat, but I felt that buying a Swan would be a better deal for me. The ability to take delivery of the first 601, and so to participate in the preliminary discussions about the look and the design of the boat, was certainly part of the attraction. The strength and reliability of the single-skin carbon construction was another reason to choose this boat, as was the fact that she is designed by German Frers who always develops beautiful boats. From the beginning, Swan's commitment was that this would be a fast boat, and that every item would be looked at from a weight-saving perspective, without losing that Swan tradition of a luxurious interior. Although the 601 is going to be extremely fast, she will be very seaworthy too. You can cross oceans with this boat, and while I'll be mostly sailing in the Med, my plan is also to sail her across to the Caribbean to compete in events like Antigua and the Heineken Regatta.

| | | |
| --- | --- | --- |
| Length overall: | 60.04 ft | 18.30 m |
| Lenght of waterline: | 52.92 ft | 16.13 m |
| Beam: | 14.89 ft | 4.54 m |
| Draught (light): | 11.81 ft | 3.60 m |
| Draught (loaded): | 12.00 ft | 3.66 m |
| Ballast: | 18700 lbs | 8500 kg |
Displacement
(light):
39700 lbs.
18000 kg
(loaded):
45200 lbs
20500 kg
Fuel:
79US gal
300 ltr
Water:
106 US gal
400 ltr
Hot water:
5.8 US gal
22 ltr
DC Power:
24 V
450 Ah
AC Power:
2.5 kVA
230 V 50 Hz
Shore Power:
5.75 kVA
230 V 25 A
Engine - approx:72 SHP
53 kW
Rig and sail dimensions
| | | |
| --- | --- | --- |
| I: | 81.74 ft | 24.92 m |
| J: | 23.29 ft | 7.10 m |
| P: | 80.05 ft | 24.40 m |
| E: | 28.38 ft | 8.65 m |
Sail areas
| | | |
| --- | --- | --- |
| Fore triangle: | 952.0 sq. ft | 88.4 m2 |
| Main sail: | 1343 sq. ft | 124.8 m2 |
| 107% jib: | 1037 sq. ft | 96.3 m2 |
| Spinnaker: | 3427 sq. ft | 318 m2 |

CE Category: A Ocean

See www.nautorgroup.com for a complete list of sales offices, brokerage the complete Swan line.