See more articles
Tartan Fantail 26: Three Flavors, Triple the Sailing Fun
The new Tartan Fantail comes in several different versions, but all have one thing in common: the fun of sailing with classic looks, but modern construction and performance.
Tartan has a new day-sailor that's a sweet package of good looks, easy handling and oodles of fun - the Fantail. Actually, the Fantail is a series of models, offering three models of the 26-foot rocket with classic lines by designer Tim Jackett. The Daysailer (DS), Weekender (WE) and Self-Trainer (ST) differ slightly, but all are perfect for the single-hander or racing couple.




With a nearly plumb bow, fine entry, reverse transom and slight sheer, the Fantail evokes another era above the waterline. You can get a good look at it for yourself, in our Short Take Tartan Fantail video. This classic appearance is balanced with a modern underbody featuring a high aspect rudder and a deep keel with a 1200-pound bulb. True to its Tartan roots, the Fantail hull is vacuum infused with a balsa core. It's strong but light, which makes it fast and responsive.

Like other Tartans, the Fantail has a large fractional rig, a pocket boom with an integral mainsail cover, and lazyjacks. A carbon fibre retractable sprit holds the furler for the asymmetrical spinnaker. The DS and WE come with a self-tacking jib with a double ended sheet, while the ST has a traditional headsail.

The cockpit is large and built to be sat in, rather than on. It is nine feet long which provides plenty of room for crew, even with a tiller. The traveler runs across the aft end, providing for end-boom sheeting and better mainsail control. An opening well under the small aft deck holds a Torqueedo Cruise 2.0 electric outboard with remote controls in the cockpit. This means there is a 24 volt engine system and a 12 volt bank to run everything else aboard. With the silent outboard, not only is the Fantail green, it's also stealthy.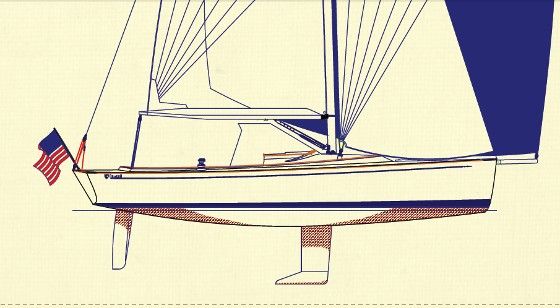 The three models offer different amenities depending on the goal of the owner. The DS has quite a bit of teak trim topsides for aesthetics. It also has sitting headroom below and offers a portable marine head, a 40-quart cooler, a stereo, and plenty of varnished trim.

The WE version has additional headroom, an alcohol stove and sink, and a real marine head with a holding tank. With the 6' 5" V-berth, there are enough amenities for a weekend for two.

The more utilitarian ST does away with the teak trim and some enhanced belowdecks comforts, because it's intended for sailing school use.

Options are mostly performance-oriented and include a carbon fibre single spreader mast and laminate sails. A wind generator or solar panels are also available.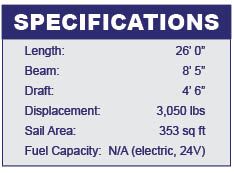 The Fantail 26 is a bit of a departure from Tartan Yachts' recent large ocean-going cruisers like the 4700 or the 4000, but it is pure Tartan with its construction, fine lines and easily managed rig. Leave the big boat at home—and go have some fun.

For more information, visit Tartan Yachts.

-Zuzana Prochazka