See more articles
The 230SX, Mainstay of the Stingray Line
This versatile classic has been a key player for Stingray for several years, and that's a good thing.
If you have been into boats for any length of time, the Stingray 230SX should be no stranger to you. It has been a mainstay among Stingray's model line for years, which is less indicative of a lack of model development and more a sign of how well the boat works.





Full disclosure on my part: The 230SX is my favorite Stingray. Always has been.

A big part of what makes the boat work so well is the patented Z-Plane hull, and among all of Stingray's models, the 23-foot configuration really performs the best. Rather than using a single-plane running surface with lifting strakes added, the Z-Plane hull uses essentially "inverted" strakes to create three separate hull planes. There's a great diagram on Stingray's website.

The result, according to Stingray literature, is an undisturbed flow of unaerated water across the bottom of the boat and to the propeller, which gives it better bite. The notched transom helps with that, too. More bite equates to less propeller slip, better performance and theoretically—though it probably can't be measured—greater fuel efficiency. The Z-Plane strakes also act as a spray release while on plane and provide "grip" in tight turns.



Even with the base engine, Volvo-Penta's 270-horsepower 5.0-liter V-8 and a single-prop drive, the 230SX climbs on plane easily and responds appropriately to trim inputs. When you get up and running you can really feel the hull "break free" from water surface.

According to Stingray's performance calculator, that same engine should net you at least a 55-mph top speed. If you want to go faster, you can opt for Volvo-Penta's  420-horse 8.1-liter with the Duo-Prop drive, but it will add roughly $1,000 per mph to the price, about $15,000, which should seem reasonable to go-fast enthusiasts.

So, with the base engine and solid deck and hull gelcoat color, the base price is $44,914 on a trailer. Add the big engine and you're looking at $60,387, which gets you a brand new 70-mph boat with a transferable warranty and a trailer. By performance-boat standards, that's a steal. Heck, by high-end wakeboard-boat standards, that's a good deal.



In the cockpit, the 230SX has more of a family cuddy-cabin feel. There is not one piece of checkered-flag or flame-job motif anywhere, which is a tasteful plus. The rear bench is deep and comfortable and the front buckets feature flip-up thigh bolsters, which increase a driver's visibility, a nice thing to have when docking or putting the boat back on the trailer.



At the rear, the full-width sun pad provides enough room for two people to catch a few rays and is just the right height from the swim platform to make strapping on a ski or wakeboard easier. The two-step telescoping ladder and a convenient grab rail make getting back aboard from the water a breeze.

Inside the cuddy cabin, which might be a bit tight for overnighting, the 230SX comes with a Porta-Potti with a self-contained holding tank, a V berth, adjustable lighting and two facing lounge seats.

Stingray also is offering at no charge a "convenience package," which includes the usual "nonfeature" features, such as an ethanol compatible fuel system (a necessity given that ethanol is used in nearly all gasoline now), electronic fuel management system (all EFI engines have this) and fiberglass cockpit floor liner (what else would it be made of?). However, the package also includes some genuine goodies such as a sport bimini top with a front filler, an MB Quart 140-watt audio system, a magnetic compass and a transom-mounted trim switch. All told, it's about $3,700 worth of stuff.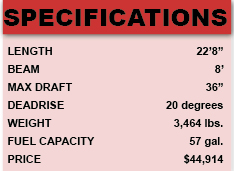 Sure, the 230SX has been in Stingray's lineup for a while, for reasons that should be obvious. It's a boat that delivers solid performance, provides just enough creature comforts and convenience at a price that makes you wonder how Stingray does it.

Editor's Note: Brett Becker is a freelance writer based in Ventura, Calif. He covers the marine, automotive and racing industries for various print and web titles. For more information on the Stingray line, call 843-383-4507 or visit the Stingray website.