See more articles
The Dual Purpose Runabout from Caravelle
With Caravelle's 232BR Interceptor, you get performance flair in a family friendly runabout.
Caravelle Powerboats seems to be one of those boat companies that flies a bit under the radar, and having sampled several of its products in the form of a demo ride or a full-on performance test, I could never understand why more people don't put them on their short lists.





Built in Americus, GA, Caravelle boats come in every iteration from runabouts and deck boats, to fish-and-ski models, sport cabins and even center-consoles and walkarounds. One of my favorite lines has always been the Interceptors, largely because of how they serve two purposes so well.





First, they are performance-oriented runabouts, which means they come with the kind of hardware enthusiasts appreciate, such as performance Faria gauges and Mercury Racing Zero Effort throttle and gear controls. If you don't know why they're better, I'll explain. Because Zero Efforts have two levers, one for changing gears and one for throttle, it performs each function that much better. Gear changes are more deliberate and throttle control is more precise. Just be sure the throttle is at idle before changing gears.



The Interceptor also offers a bevy of engine choices. The base engine is either a 260-horsepower MerCruiser 5.0-liter MPI or a 270-hp 5.0-liter from Volvo Penta. With either power plant, base price is $39,964. Naturally you're going to want more horsepower, but everyone's on a budget, right? Probably the best bang for the buck in terms of engines is MerCruiser's 377 Mag MPI. Here's why.

First of all it's a small-block package, so it's a lot lighter than the 8.1-liter big-block engines. Second, the engine comes with a forged crankshaft and special pistons for enhanced durability. The package makes 320 horsepower, and it's a real screamer in a 3,500 pound Interceptor. Third, it comes with a Bravo One sterndrive, which is better than an Alpha One because it uses a cone clutch, and it comes with a stainless-steel propeller. That should get you above 60 mph for less than fifty grand, which is harder to do than it seems.



Of course, you're going to need a few more performance goodies, such as the switchable exhaust ($2,990). A cockpit cover ($840) and an extended swim platform would be nice ($1,590) with the walk-through transom ($1,110). You can get a regular sunpad without the walk-through too. Oh, and the black, low-profile windshield really completes the racy looks, and it's only $420. OK, so maybe a nicely equipped 232BR Interceptor will run a bit more than fifty-large.

So stop yourself there. Standard features include a self-draining all-fiberglass deck and sole. Nice and deep, the cockpit leads to the walk-through transom, which features nonskid decking to the swim platform, and stowage underneath. Beneath the engine hatch, which is supported on gas struts, there is more stowage—and because you opted for the small-block engine, you get more room for gear and more room to climb in there and perform routine maintenance. There's also another locker in the swim platform just forward of the stainless telescoping swim ladder.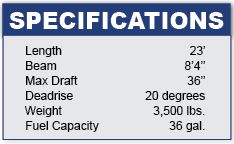 Inside, you get a wraparound bench sea with stowage compartments molded in as part of the sole and deck assembly. Driver and observer get swivel bucket seats with flip-up thigh bolsters, and there is an in-sole locker for stashing skis and life vests below deck. Stereo options are plentiful, but even the standard setup is iPod and MP3 compatible. Up front, the bow features a cooler beneath the forward seat, grab rails concealed to preserve the sleek profile lines and a standard filler cushion.

If you haven't heard much about Caravelle Interceptors, don't let that stop you from checking them out. They aren't the biggest or most well-known boatbuilder in North America, but the Interceptor is a solid offering that provides a great platform for day-boating with the family and just enough speed and performance to keep things interesting.

For more information, call 800-642-2628 or visit the Caravelle website.



Editor's Note:
Brett Becker
is a freelance writer based in Ventura, CA. He covers the marine, automotive and racing industries for various print and web titles.