See more articles
The Largest Catamarans In The World
More space. Less seasickness. What isn't to love about the mega cat? We delve into why supercats are making waves in the superyacht industry.
Super Catamarans Are Trending
Mega catamarans are a relatively new concept that has undergone significant development over the past decade thanks to the ever-growing popularity of luxury powerboat catamarans and superyachts, which become increasingly more prominent each year. A mega catamaran is defined by any multihull measuring over 100 feet in length, available in semi-custom and custom designs. These vessels can reach top speeds of up to 40 knots.
Mega Yacht Multihull Development
Mega-catamarans are becoming stronger, larger, lighter, and faster thanks to advancements in technology and partnerships that promote knowledge sharing. Shipyards are branching out and engineering bolder designs by pioneering new ways of pushing the boundaries of scale and speed. Interestingly, the Australian shipyards can continue to dominate the world's largest power cat arena.
The burgeoning demand for mega cats has inspired Sunreef Yachts to upsize, and this year they delivered the Sunreef 49 Power Cat model- now the largest yacht of the fleet, measuring 160 feet.
Browse Sunreef catamaran boats for sale on boats.com
The Benefits Of Mega Catamarans
When imagining a luxurious sailing holiday, your mind may instantly jump to superyachts, however, mega catamarans can be equally luxurious, offering unique benefits. Firstly, the two-hull structure of the catamaran provides almost double the recreational space compared with a monohull of a similar size, allowing guests to have more space on board. Large parties often prefer catamarans, thanks to the broader deck and living spaces. Also, catamarans are bright and airy since the living space sits above the waterline.
Secondly, the catamaran's two-hull structure and wide beam allow for a smooth sailing experience, with minimal rocking — a huge benefit for any guests who suffer from seasickness. Finally, the shallow draft and lack of underwater appendages mean that catamarans can transverse shallow waters without grounding, allowing travelers to explore remote harbors and beaches without fear of grounding or damaging coral reefs, making it ideal for cruising tropical waters.
Below, we have selected ten of the world's largest power and sailing catamarans, which offer guests stylish and stable cruising experiences with oodles of space.
World's Largest Power Cats
1. Hodor (Astilleros Armon) - 217 feet
2. Sunreef 49 Power Cat - 160 feet
3. Charley (Echo Yachts) - 150 feet
4. Moecca (Bannenberg & Rowell) - 148 feet
5. Heysea Vista 140 (Heysea)
6. Sarha Yacht (Sea Management) 147 feet
7. Royal Falcon 145 feet
8. Silver Cloud 134 feet
9. Zenith - 132 feet
10. The Beast (Profab Engineering) 129 feet
1. The World's Largest Catamaran: Hodor 217 feet
Hodor's linear exteriors and grey paintwork give an industrial look, neatly finished with contrasting orange stripes that wrap around the hull, helicopter and helipad. Incat Crowther was responsible for the design and naval architecture and Astilleros Armón built her at their Burela shipyard in Spain. The vessel was designed to be filled with toys to maximize living space on the mothership. Onboard guests can browse the entire vessel for toys. There are nine jet skis, four Yamaha quad bikes, two Yamaha side-by-side ATVs, four Yamaha TW200 trail motorcycles, two Laser dinghies and one Hobie Cat available. Stored in the top deck is a 7.3-meter Novurania catamaran RIB, a 16-meter Hydra-Sports 53 center console sports boat with quad Seven Marine 627 engines, a nine-meter Metal Shark landing craft, a Ski Nautique, and a 388 Skater race boat, capable of achieving 240km. The 17-meter Nor-Tech 560 Sport center console is launched by dropping a hydraulic lift between the two hulls. And in case there isn't enough to choose from, there are whispers that a Seamagine Aurora-3 submersible is being eyed-up to join the owner's toys collection.
Although the vessel functions as a toy-carrying shadow vessel to support the superyacht 'Lonian', designed by Feadship. Aside from serving as toy storage, it also has two beautiful interior guest areas with bathrooms. One wonders whether this is the world's largest catamaran and the largest toy box? This is the ultimate toy tank for adventure seekers who love playing in the water.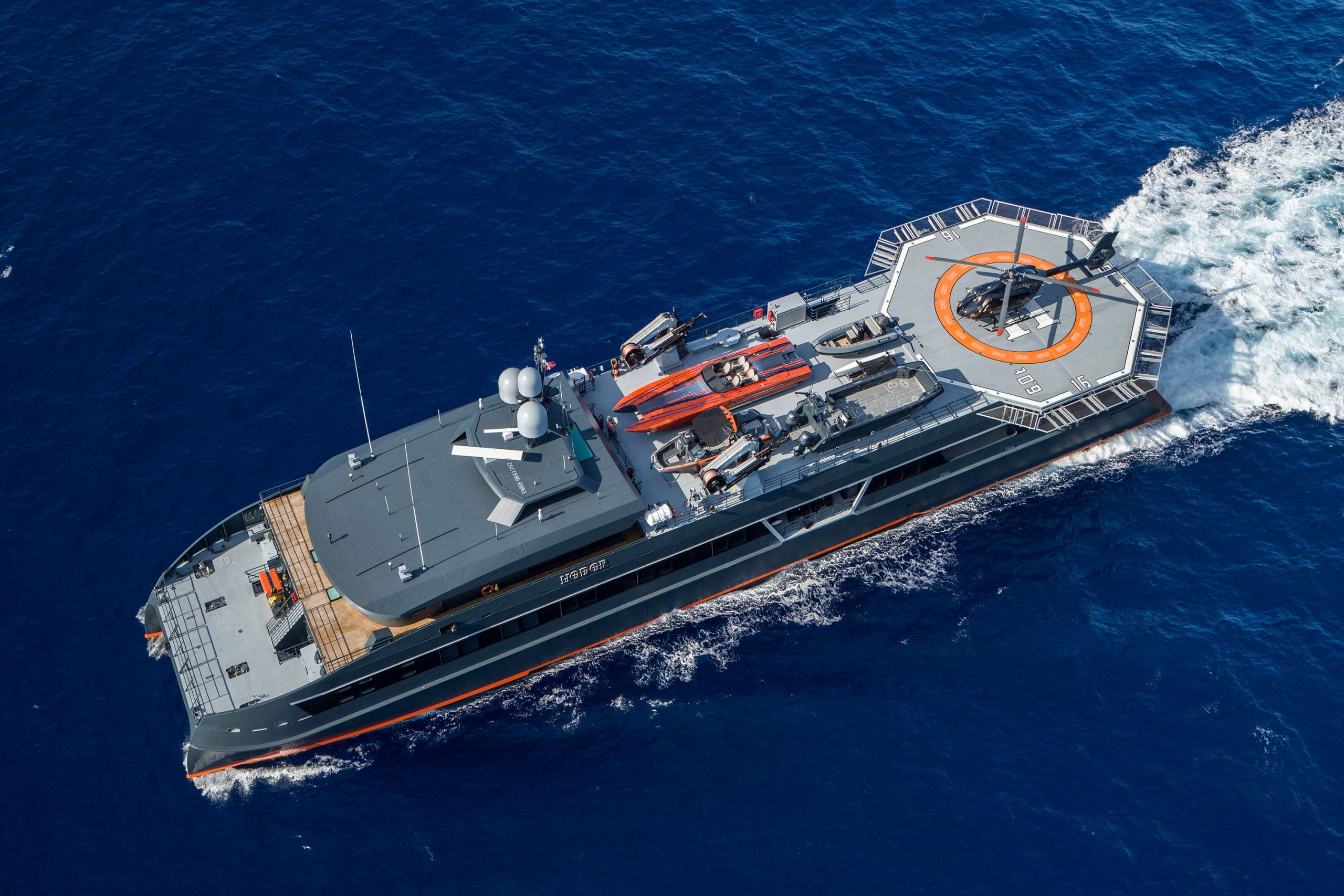 Hodor cruising through the water, shadowing the owner's main vessel Lonian. Image credit: Clint Jenkins Photography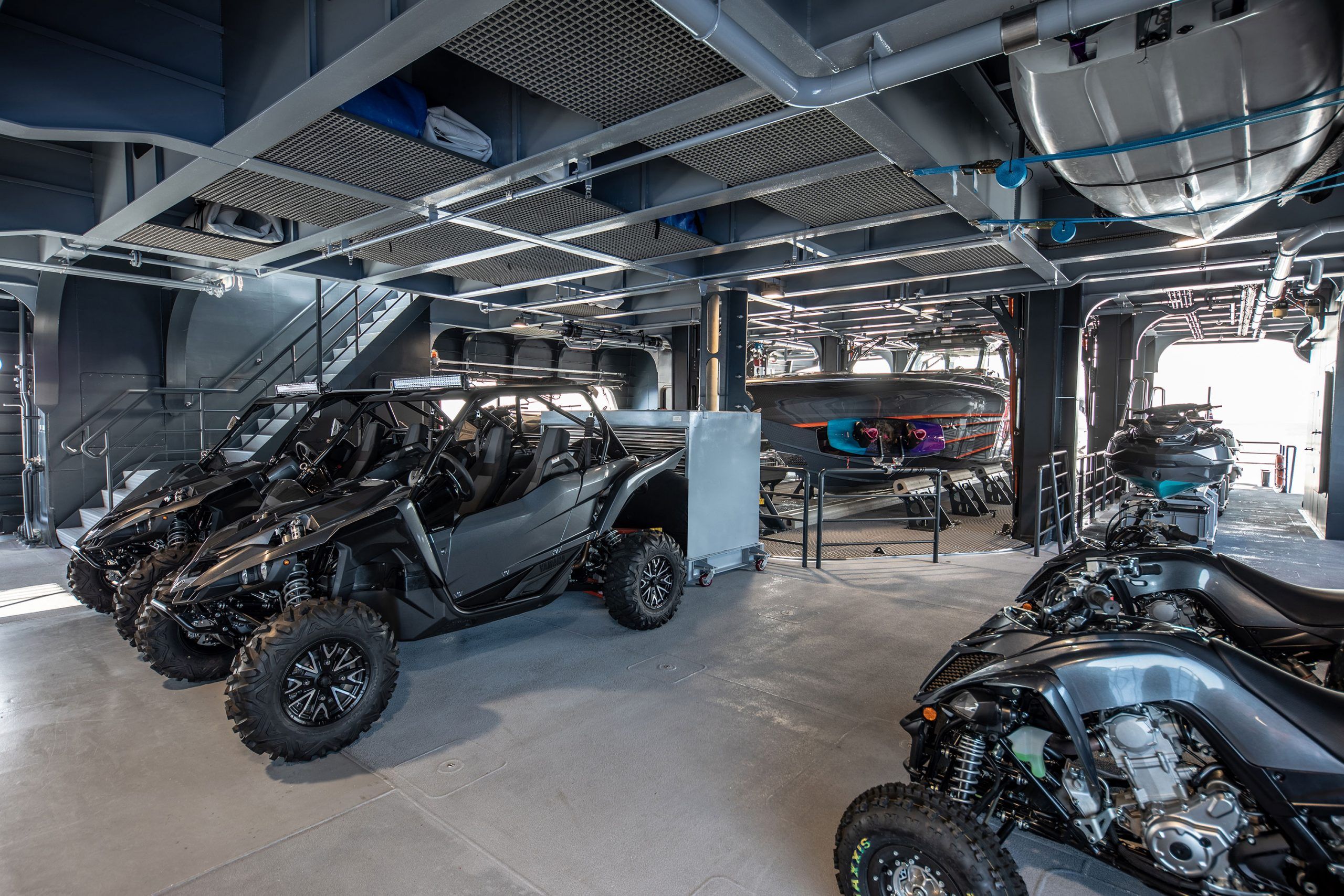 Yamaha quad bikes in storage. Image credit: Clint Jenkins Photography

Image credit: Clint Jenkins Photography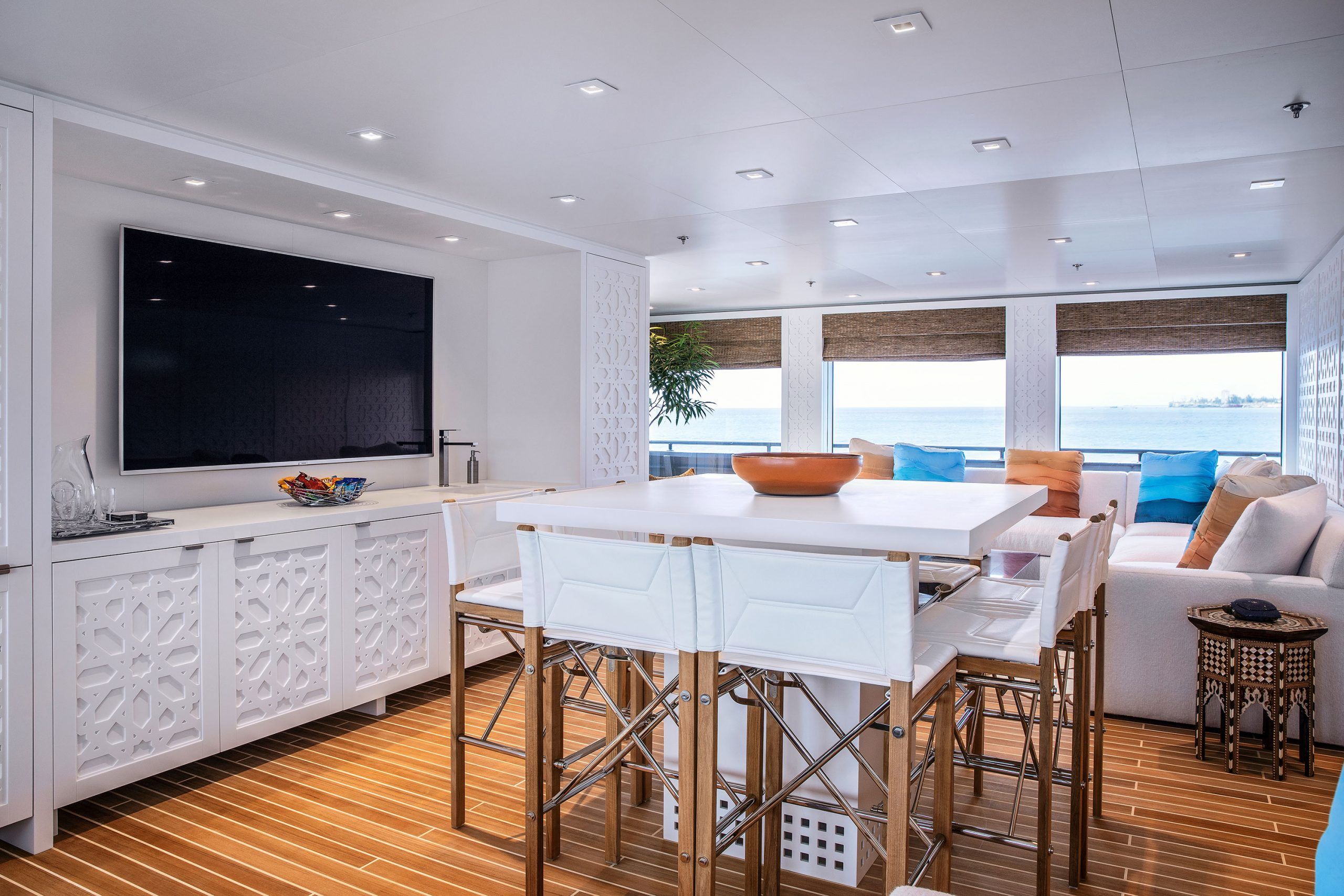 Oliver Design is responsible for Hodor's interiors. Image credit: Clint Jenkins Photography
2. Sunreef 49 Power Cat- 160 feet
This tri-deck catamaran concept incorporates vast outdoor living areas, thanks to the yacht's broad 55-foot beam. Luxurious accommodation accommodates up to 10 guests and a crew of 17. There is plenty of storage to carry up to three tenders and a wide array of toys.
3. Charley (Echo Yachts)- 150 feet
Also, a tri-deck, the superyacht support vessel Charley was built by Australian yard Echo Yachts. New Zealand-based studio LOMOcean Design was also responsible for naval engineering and contributed to the exterior and interior styling. While the yacht is primarily used as tender storage, it also accommodates up to five guests. There is ample storage room to hold up to 10 watercraft, including five tenders, four jet skis, and a hovercraft.
Underwater explorers will benefit from the diving facilities on board. There is a dive store, a decompression chamber, and a sonar system for searching out the best shipwreck dives.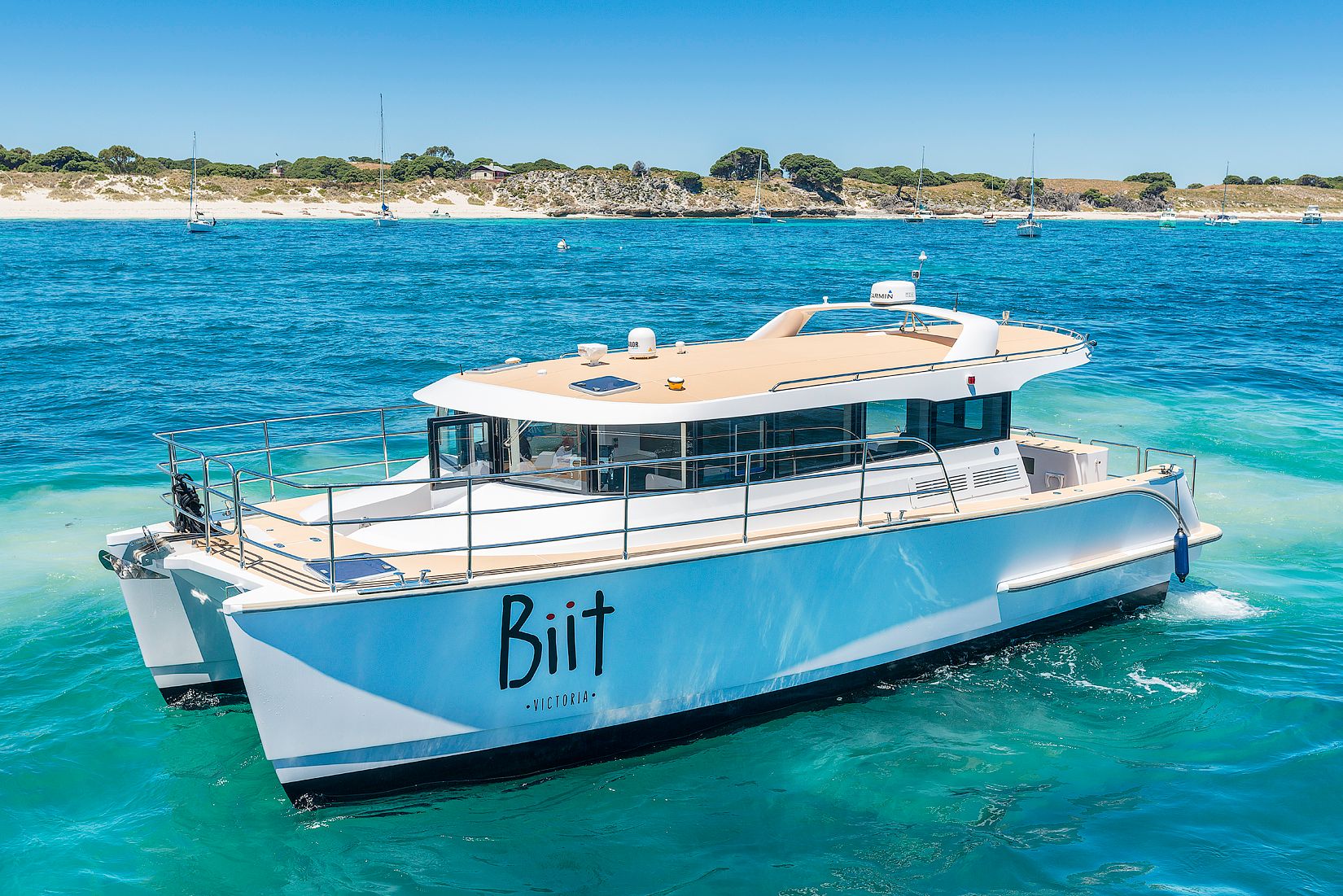 Charley has space on the bow to sunbathe. Image credit: Echo Yachts
4. Moecca Build by Oceanfast - 148 feet
Moecca is a timeless yacht with classic lines and an eye-catching emerald-green hull. Australian superyacht builder built her, Oceanfast She can accommodate up to 12 guests in 7 staterooms. She is also capable of carrying up to 11 crew. British designer Bannenberg & Rowell are responsible for the interiors and exterior design. She is capable of achieving a maximum speed of around 29 knots.
5. Heysea Vista (Heysea) 148 feet
Heysea Vista's striking champagne gold hull turns heads. Chinese boat builder Heysea is responsible for her naval architecture and exterior styling. Eight staterooms can accommodate up to 16 guests. She has a modest cruising speed of ten knots.
Heysea Vista is for sale with boats.com
6. Sarha (Sea Management) 137 feet
Australian boatbuilder Sea Management built Sarha. Her interior layout provides accommodation for a whopping total of up to 30 guests onboard. H2 Yacht Design is responsible for her interior and exterior design.
7. Royal Falcon One (Royal Fleet) - 135 feet
This futuristic catamaran looks like something from science fiction, designed by Porsche Design Studio and built by Singaporean builders Royal Fleet in 2019. If you look carefully, the two hulls look reminiscent of a sports car track. The wide beam makes for an exceptionally smooth cruising experience. Porsche Design Studio started using a clean sheet of paper to design a yacht with a catamaran configuration.
The finest leathers and materials have been used on her contemporary interiors, keeping her super-modern exterior styling. A circular panoramic observation lounge offers guests stunning ocean views. Royal Falcon One can host up to ten chartered guests and boasts a jacuzzi, an onboard bar, and a tender garage. Alongside this, Royal Falcon One boasts some serious firepower, featuring twin 4,600 hp engines, and twin Rolls-Royce waterjets, allowing her to reach top speeds of up to 35 knots.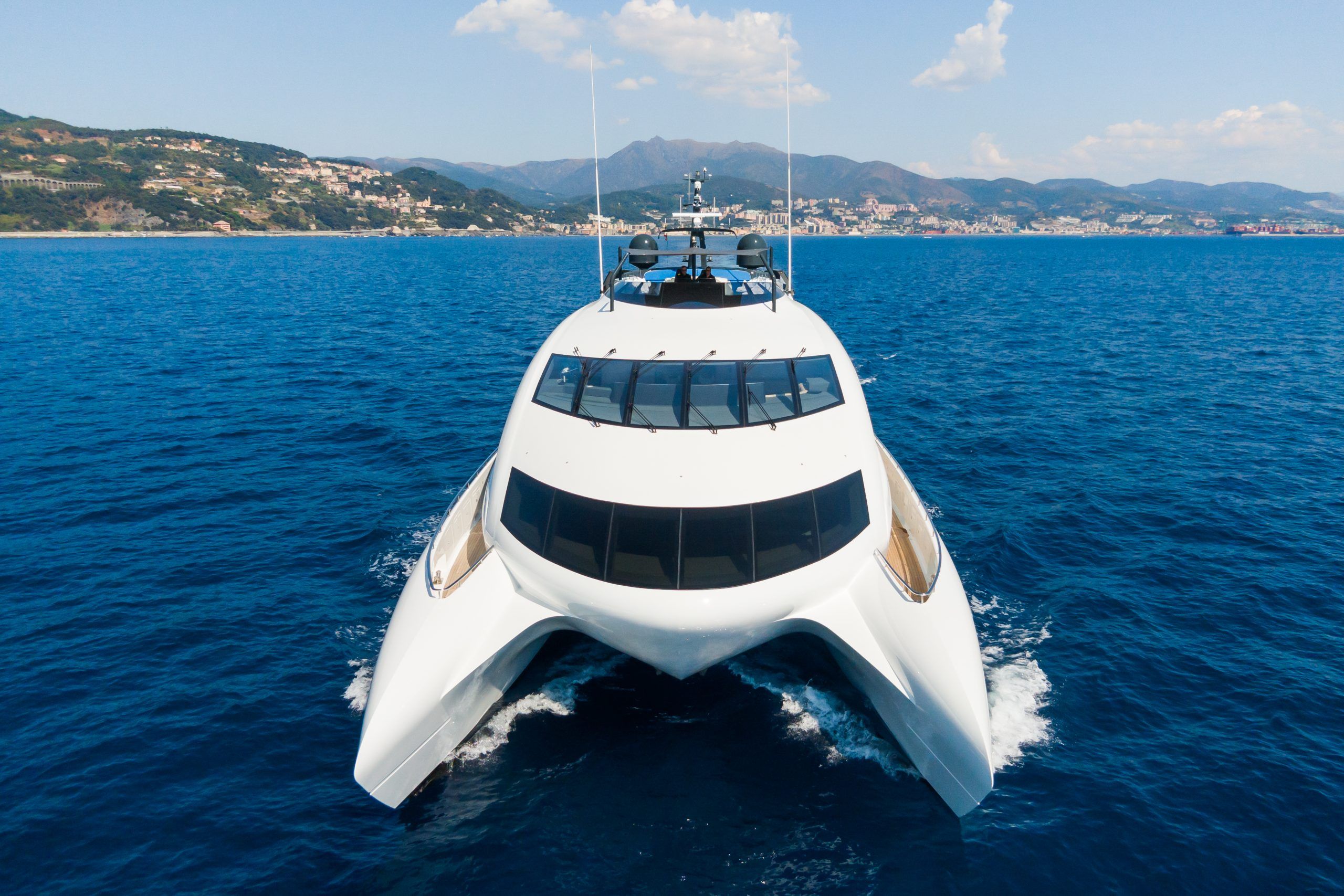 Royal Falcon One is now exclusively for sale with Denison Yachts. Her exteriors are reminiscent of a spaceship. Image credit: Denison Yachts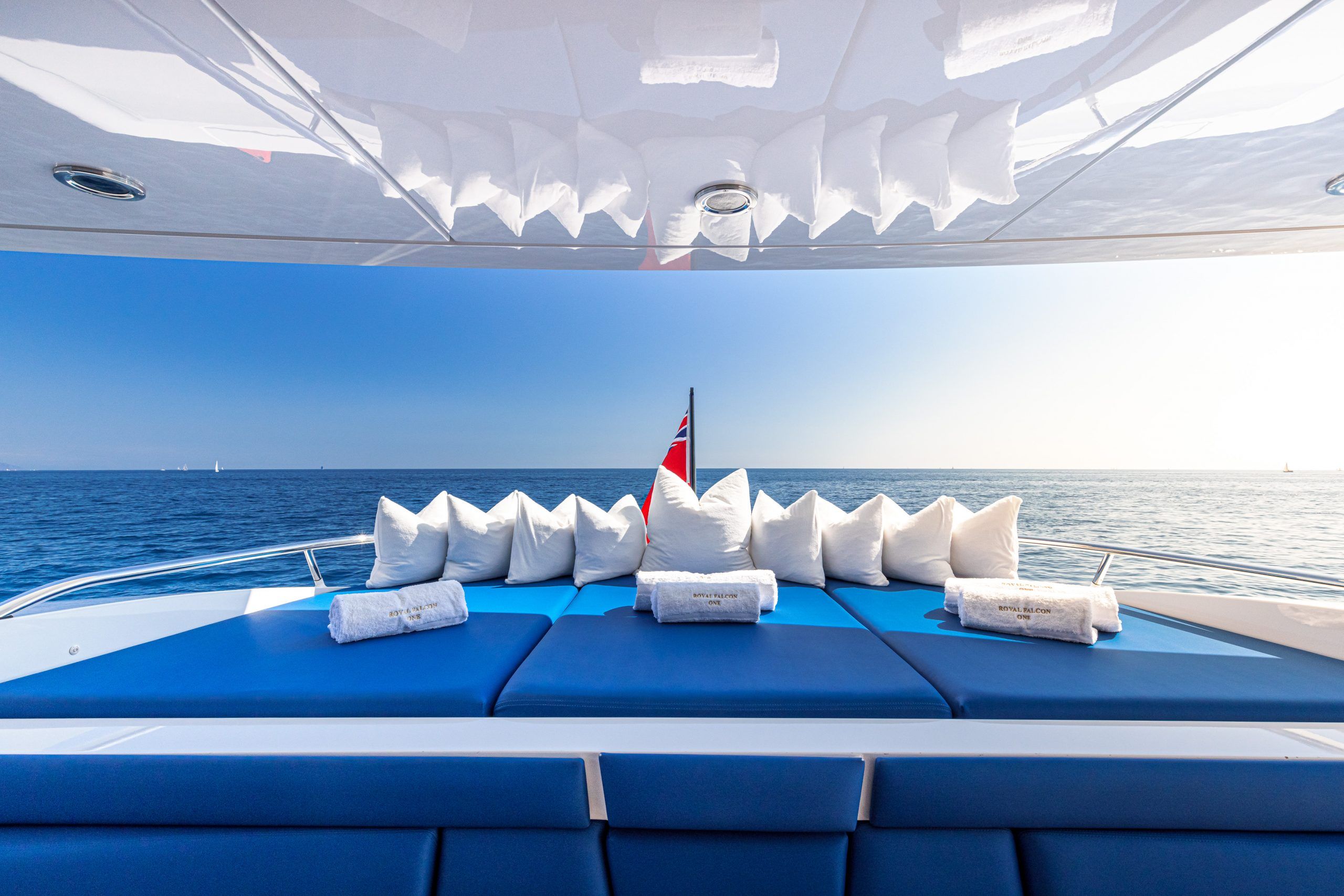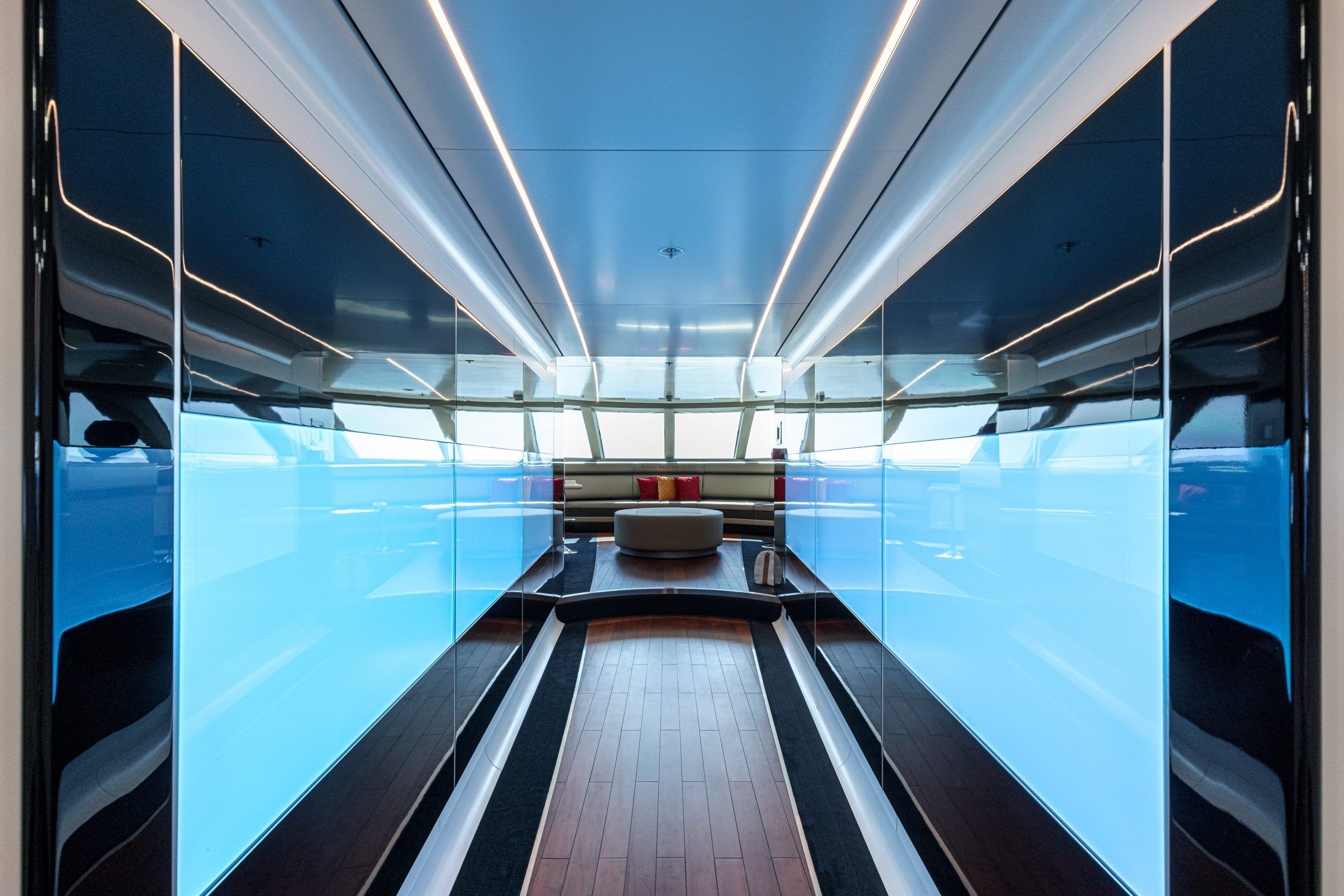 The wide beam allows for spacious walkways and a sense of openness in the interiors. Image credit: Denison Yachts
$31,724,000
8. Superyacht Award Winner: Silver Cloud - 134 feet
In 2009, German shipyard Abeking & Rasmussen built this impressive twin hull model, a two-time winner at the World Superyacht Awards. Michael Kirschstein designed the elegant interiors. Silver Cloud packs tonnes of amenities into her 134 feet, including a spa pool, a sky deck, and a large helicopter pad. A 360-degree sliding door leads guests towards the panoramic views offered by the main deck, providing plenty of opportunities for al fresco dining and entertainment. Silver Cloud can host up to twelve guests and offers plenty to keep them entertained, including a fully-stocked media room, a 65-inch plasma TV, and complete scuba diving equipment for every guest. Silver Cloud also packs a real punch speed-wise; she can cover 4,000 nautical miles at 10 knots with zero-speed stabilizers.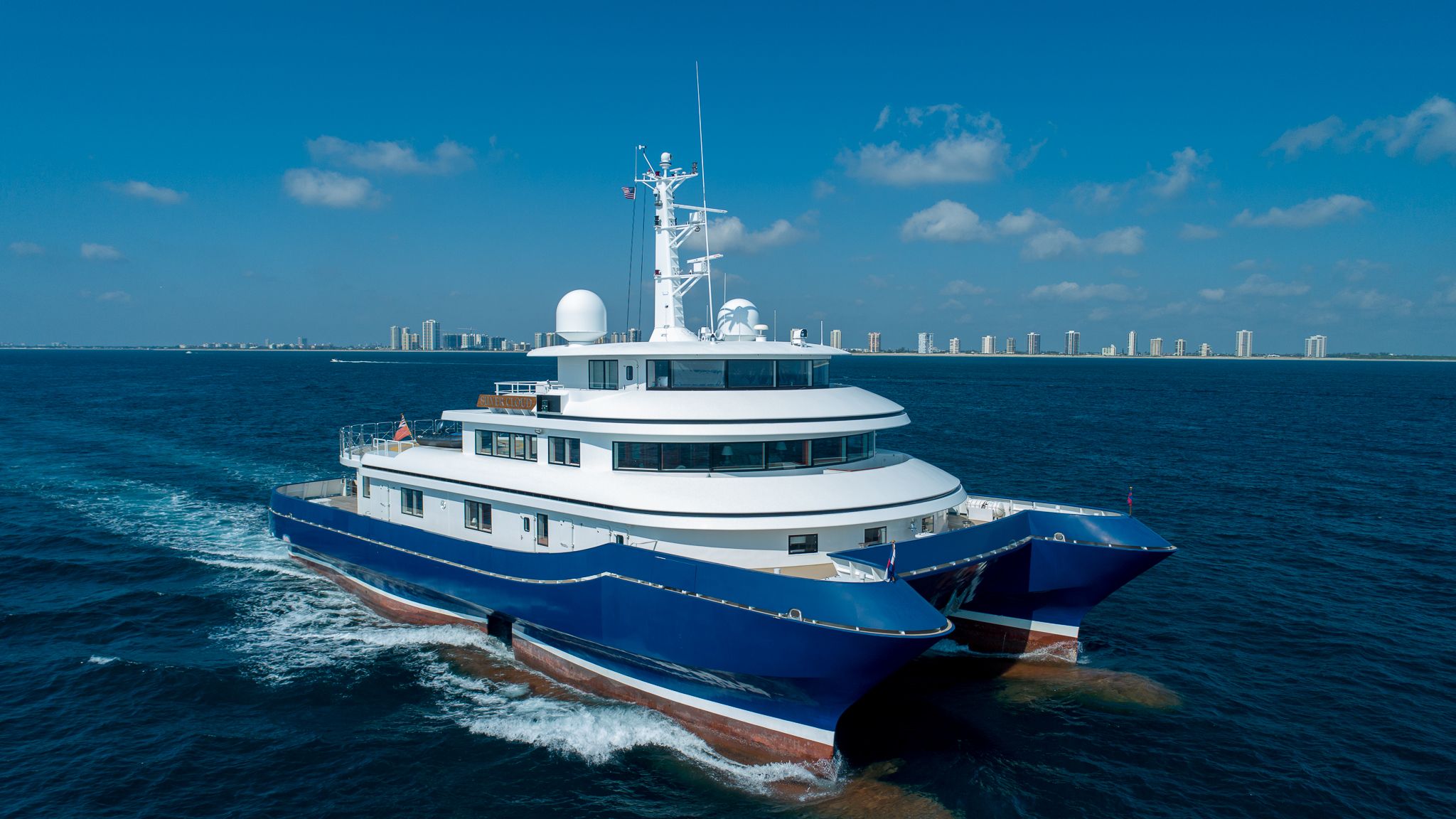 9. Zenith - 131 feet
Another Australian-built vessel (by Sabre Catamarans), Zenith, is designed for comfort. Zenith offers five staterooms, each with its entertainment center and ensuite bathroom facilities, with room for a crew of six. The sophisticated interior design is courtesy of Incat Crowther and features an open plan, saloon-style aesthetic featuring Maplewood detailing and a marble-topped buffet table for casual dining. There are plenty of outdoor amenities, including a wet bar and a barbecue grill — perfect for summer parties. She is powered by twin diesel engines.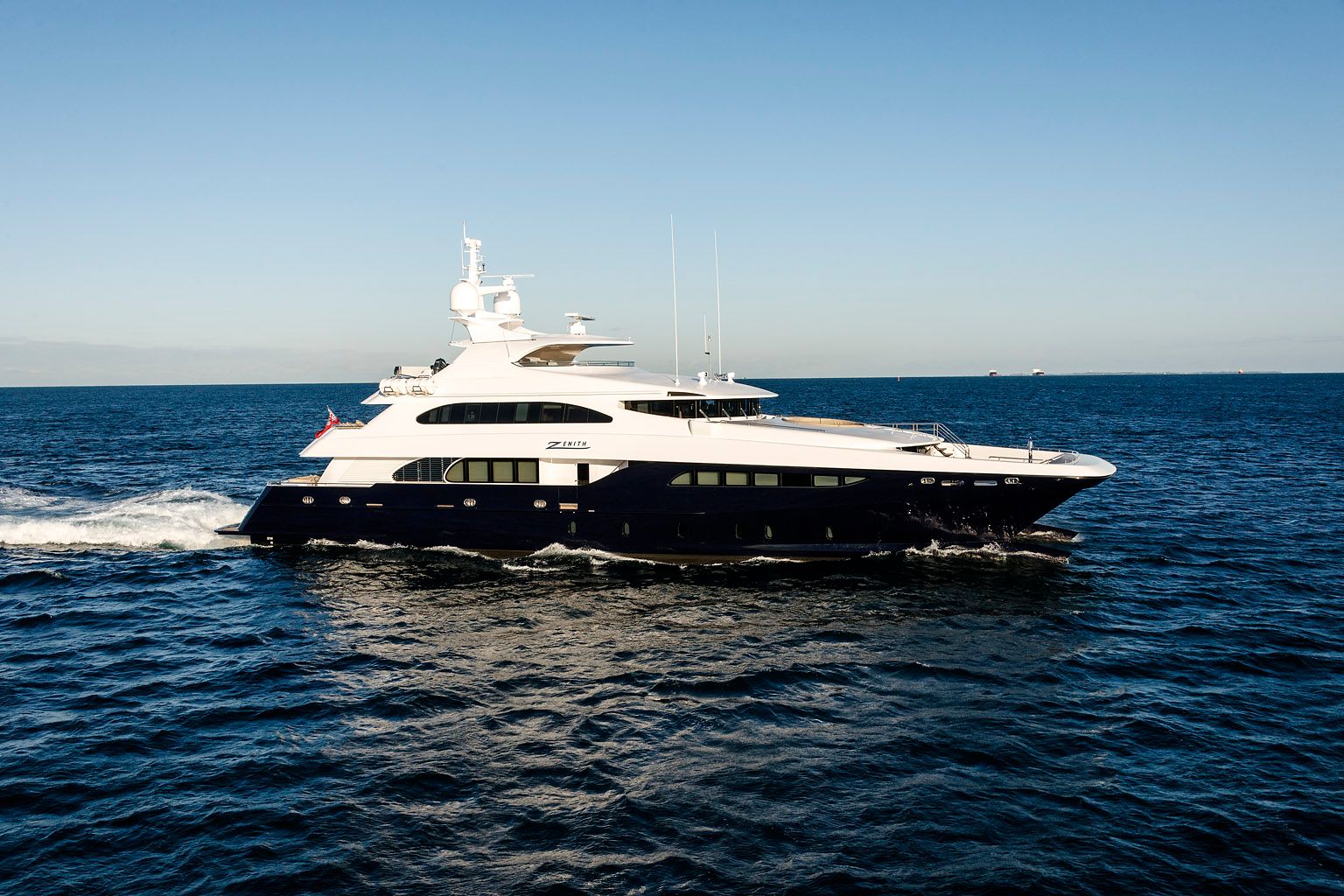 Zenith can reach top speeds of up to 29 knots open throttle. Image credit: Sabre Yachts
10. The Beast (Profab Engineering) 129 feet
This camouflage tri-deck catamaran's exteriors have an explorer finish. Keen anglers would enjoy the fisherman equipment on board, including spacious freezer rooms, live bait tanks, and a 42 foot composite game fishing boat. Delivered by shipyard Profab Central Engineering.
World's Largest Sailing Cats
1. Sunreef MM 460 CAT - 150 Feet (Under construction)
2. Hemisphere (Pendennis) - 145 Feet
3. Douce France (Alu) - 138 Feet
4. Sunreef 130 - 130 feet
5. Quintessential - 100 feet
6. Jamadhar - 96 feet
7. Orion (Catana) - 90 feet
8. McConaghy 90 - 90 feet
9. Gunboat 90 - 78 feet
10. Lagoon Seventy 7 - 78 feet
1. Sunreef MM 460 Cat - 150 Feet (Under construction)
Sunreef and Malcolm McKeon Yacht Design collaborated to create a luxurious sailing yacht designed for transoceanic voyages. Efficiency underpins the design, which incorporates a carbon fiber mast and boom and composite construction. A unique standout feature is the glass superstructure which wraps around the 60 sq.m flybridge. The interior and exterior design is modern and irrefutably nautical.
2. Hemisphere (Pendennis) 145 feet
Hemisphere represents the perfect blend of functionality and style. At 145 feet, she can accommodate up to twelve guests, featuring two VIP suites. She was built by the prestigious Pendennis shipyard. Hemisphere is frequently chartered in French Polynesia, where guests can make the most of the plethora of water toys offered onboard, including water skis, paddleboards, fishing equipment, inflatables, kayaks, and scuba diving gear.
The PADI-certified, Nitrox-capable dive center on board means that guests can make the most of the turquoise-blue waters brimming with marine life. She comes with a 16.4m custom sports fishing tender for day excursions, and for those that want to relax onboard, you can sunbathe on the trampoline or bubble away in the large jacuzzi on the sundeck.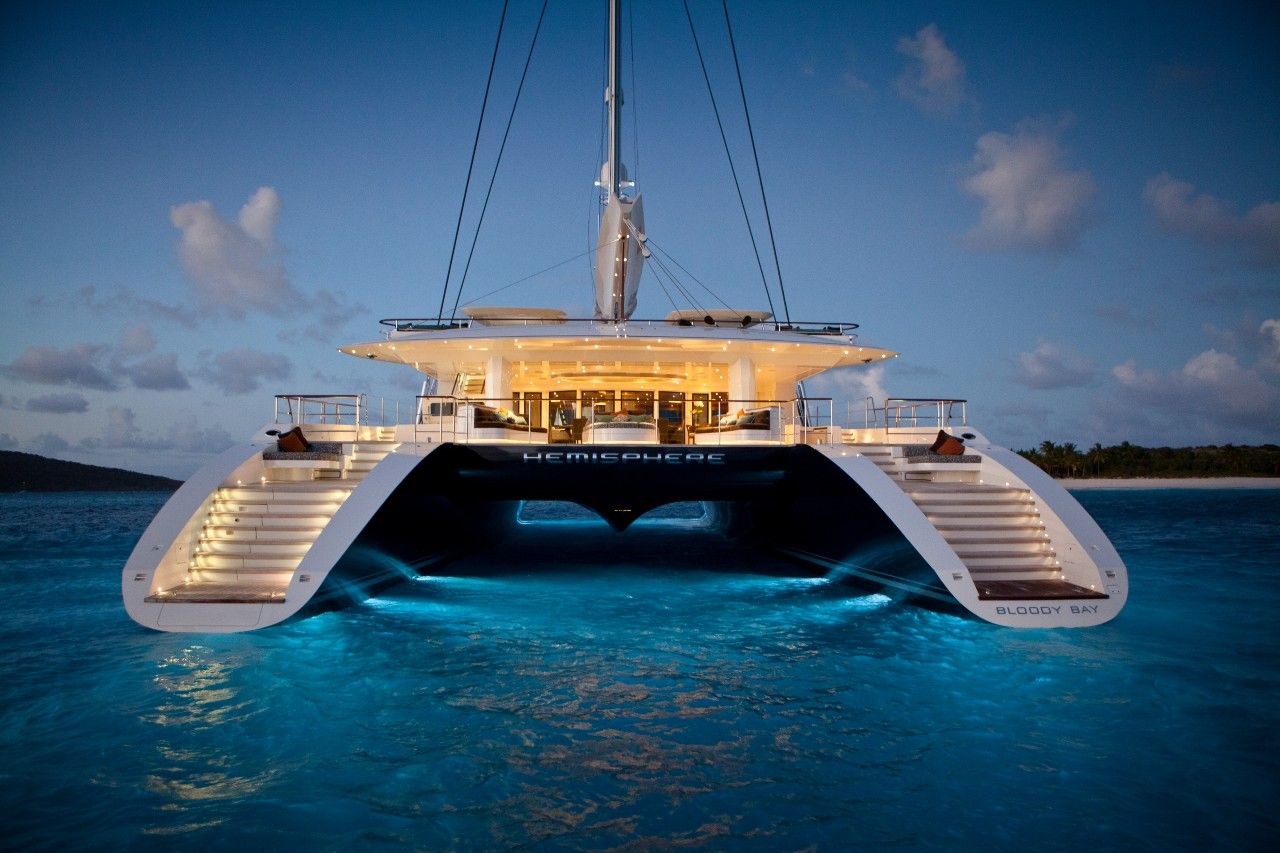 Hemisphere is available to charter through Burgess Yachts. Weekly rates are priced at $280,000.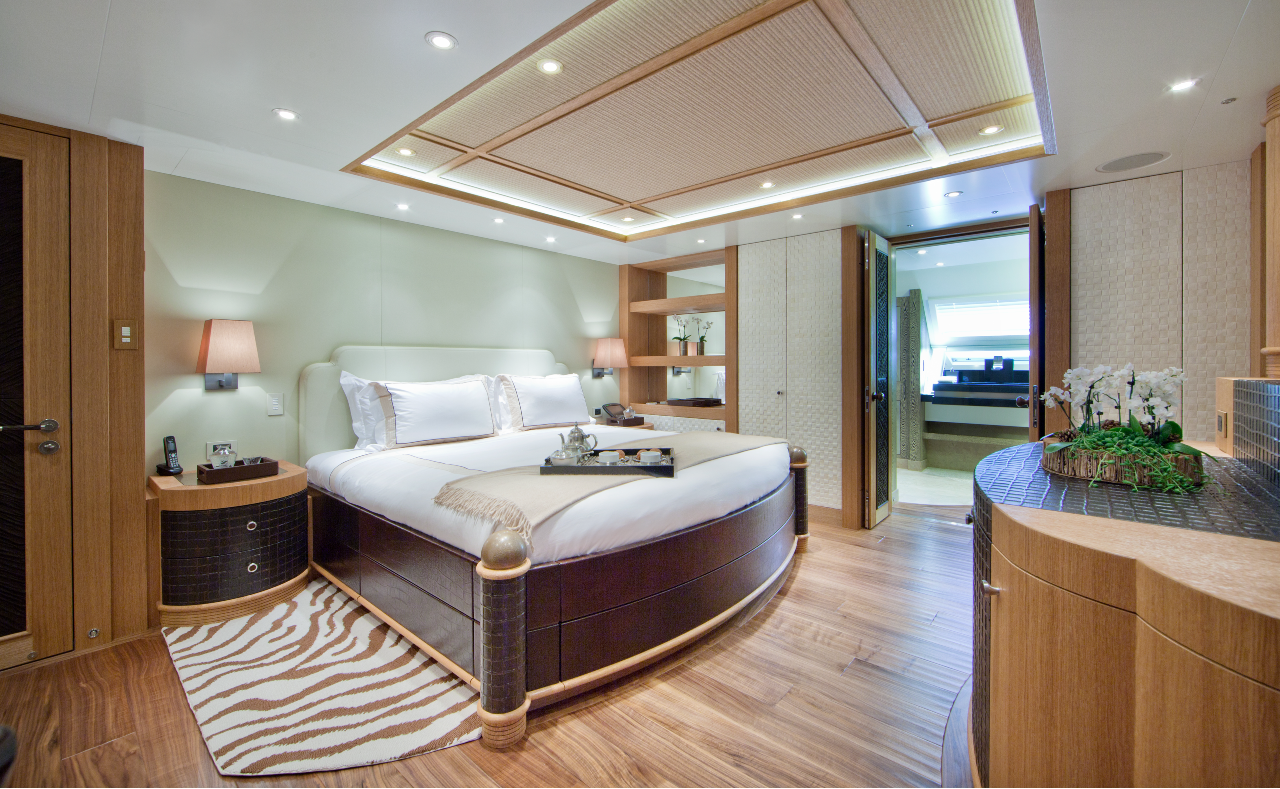 A VIP stateroom with a master ensuite. Image credit: Burgess Yachts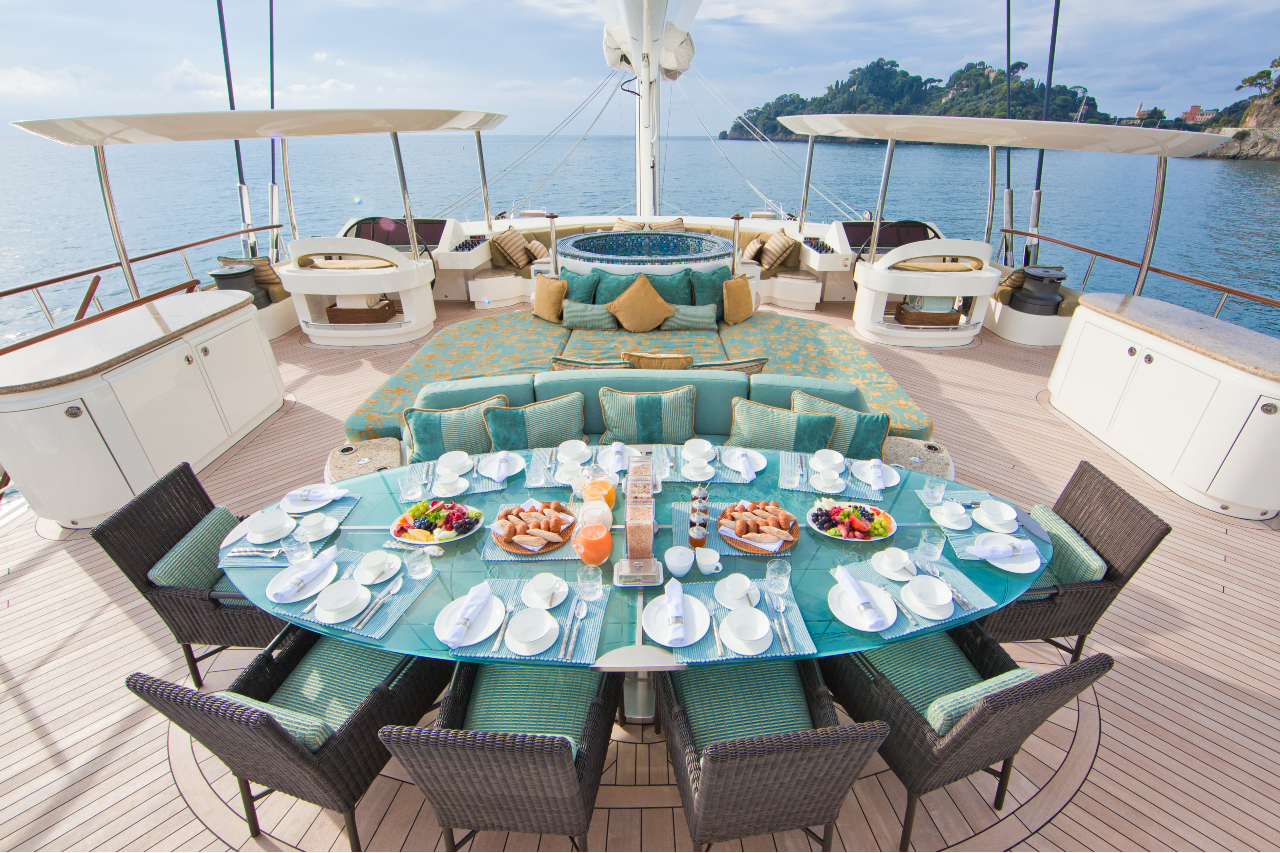 The aft deck features Al fresco dining, a jacuzzi, a bar, and covered social areas. Image credit: Burgess Yachts
3. Douce France (Alu Marine) 168 feet
This sailing yacht is defined by the circular deckhouse, which provides guests with 360-degree views. The interiors have a colonial feel- clad in mahogany and rosewood. There are six staterooms to cater to twelve guests. Douche France was built by Alu Marine shipyard.
4. Sunreef 130 - 130 feet
Sunreef Yachts produce pedigree catamarans. For a reliable sailing catamaran that is large and luxurious, Sunreef Yachts leads the charge in large. It is a yacht for sailing enthusiasts who want to enjoy living and spending quality time with their family and friends. It features a flybridge and an abundance of social areas. In the absence of wind, she has two 500 HP engines.
5. Quintessential (Yachting Developments)- 100 feet
Launched in New Zealand by Yachting Developments, Quintessential was conceived with strength and speed in mind, constructed using Epoxy EGlass carbon fiber incorporating foam-core sandwich technology.
Warwick Yacht Design is responsible for her naval engineering and exterior styling, and British designer Redman Whitely Dixon (RWD) designed her interiors. She can accommodate up to 10 guests, with five crew members.
Quintessential has a cruising speed of 10 to 12 knots, and at wide-open throttle, she can top speeds of up to 14 knots.
6. Jamadhar 100 (Magic Yachts)- 96 feet
Built by Magic Yachts in Tunisia (builder for Wally, Cantieri di Pisa, Persico Marine). Jamahar sleeps 8 in 4 staterooms. Francesco Maria Giulini designed the impressive interiors.
7. Orion (Catana) - 90 feet
Orion is a nod to France's rich nautical heritage. She was built by French shipyard Catana, and designed by French naval designer Christophe Barreau. She can accommodate up to 6-8 guests in 4 double staterooms and averages a respectable cruising speed of nine knots.
8. McConaghy 90 (MC90) - 90 feet
Aerodynamic efficiency underpins this high-performance racing yacht. McConaghy is much lighter than similar length catamarans, yet her interiors are incredibly luxurious thanks to the work of the interior design team of Design Unlimited. Ker Yacht Design, who specializes in high-performance racing yachts, was responsible for her naval architecture.
Thanks to the elimination of the flybridge, E-glass/Epoxy, carbon-hybrid composite foam construction, and the elimination of the forward crossbeam, you can expect speeds in excess of 20 knots in the right sea state.
MC90 has been awarded Bureau Veritas classification for bluewater sailing, which is recognized as the highest rating globally
9. Sunshine Gunboat 90 - 78 feet
Sunshine is the queen of the legendary Gunboat fleet, launched in South Africa, and designed by Morrelli & Melvin. This high-performance luxury cruiser can reach speeds of up to 30 knots! She is designed to fare well in all sea states, making her the perfect candidate for bluewater sailing. Her adjustable daggerboards can flip up, and the round bottom hulls enable her to skate sideways along waves. Also, the high bows offer tremendous buoyancy.
10. Lagoon Seventy 7 - 78 feet
The flagship of Lagooon's sailing fleet. Together, Patrick le Quément and Nauta Design collaborated to produce modern interiors with French elegance. VPLP was responsible for the naval architecture. Each model is fully customizable, enabling each owner to make their unique model. Different layouts available offer either 3, 4, or even five staterooms.
There is also a floating staircase leading up to the flybridge, which provides fantastic sea views. The living area on the aft deck is spectacular, integrating the outside-in. This stylish catamaran is perfect for sailors who want to spend lots of social time outdoors, island hopping and going on adventures further ashore.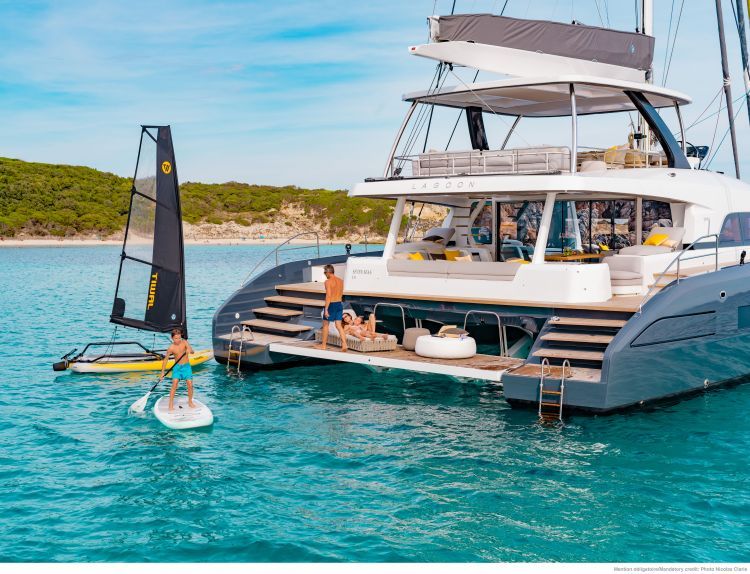 The Lagoon Seventy 7 beach club on the aft. Image credit: Lagoon
If you are new to boating, you might find it helpful to read The ABCs of Multihull Boats.
Browse catamaran boats for sale on boats.com
Mega Multihulls Q&A
What is a mega catamaran?
A mega catamaran is a large, luxurious, professionally crewed motor catamaran ranging from 79 ft to more than 590 ft in length.
How much does a super catamaran cost to own?
Mega catamarans (1000 feet+) are made entirely bespoke by big shipyards and typically cost between $15,000,000 up to $100,000,000. Shipyards that currently make mega-cats include Moran Shipyard, Pendennis Shipyard, Sabre Catamarans, and Echo Yachts.
How much does a mega catamaran cost to charter?
Weekly rates for mega catamarans typically range between $200,00 to $300,000.
Which brands specialize in semi-custom luxury catamaran yachts?
Leading brands in luxury catamaran yachts that offer half-bespoke design solutions include Sunreef Yachts, Corsair Marine (tri-hulls or multihulls), HanseYachts Privilege (for large catamarans), Lagoon and Fountaine-Pajot.