See more articles
Hunter Liberty: Traditional Looking Tender
Liberty Dinghy: New Tender from Hunter Marine
The new Hunter Liberty Tender has the look of a traditional lapstrake built dinghies, but is molded in Hunter's ACS technology to be virtually indestructible and very inexpensive. MSRP for the Liberty starts at $1200 (the sail package is an option).

In addition to making a nice tender or workboat, the Liberty can serve as a safe sailboat for your children, as it's unsinkable. No worries about them running it into rocks or docks, as the ACS construction makes it five times more resistant to dings and damage than fiberglass.

About ACP

ACP is the most modern production boat building method being used today. It starts on the outside with a tough outer shell that is both weather and scratch resistant. The outer layer is then backed up with a high density urethane foam to add stiffness and impact resistance. The entire structure is strengthened by a layer of knitted biaxial fiberglass bonded inside the foam.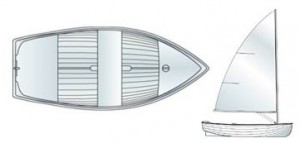 The outer layer of ACP is a BASF plastic called LURAN-S. This plastic is specially formulated to provide a beautiful glossy finish that is very easy to maintain. Dirt and grime is easily removed without the use of harsh chemicals. The finish will never develop the crazing associated with gel-coat and since the color goes so deep into the outer layer, scratches can be sanded out and buffed back to nearly new finish. This makes most minor damage easy to repair without using special techniques, resins, or paints. Since you can do this quickly and easily yourself, you'll save money. But since the ACP structure is so much stronger than fiberglass, you're much less likely to have to repair it to begin with.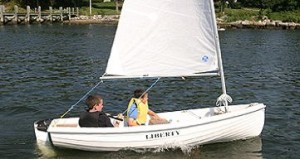 The outer plastic surface of the structure works in combination with urethane foam backing to provide nearly 5 times the impact resistance of traditional fiberglass. Instead of thin brittle coating on the outside, the ABS backed Luran-S plastic is both thick and flexible. When an ACP boat is struck by an impact, the outer skin will flex slightly to absorb the energy. Flexing is much better than breaking. Next, the urethane foam backing supports the skin and diffuses the impact energy through a large area. Finally, the fiberglass backing holds the structure intact, thus preventing significant damage. Where a fiberglass boat might have a large crack or hole, an ACP boat will suffer no more than a surface scratch.

Aside from it's beautiful and durable finish, ACP construction provides yet another benefit. Safety. The foam backing that provides the structural rigidity, also makes the boat unsinkable. In the unlikely event an ACP boat is completely filled with water, it will still stay afloat. The material itself provides the positive flotation, eliminating the need for airbags or foam blocks inside the hull.

Features:



ACP Hull


Unsinkable Hull


Self Bailing Cockpit w/Transom Scupper


Flush-Folding Stainless Steel Bow Eye


PVC Non-Marking Rub Rail


Oar Locks


Three Seats


Optional Sailing Package - Includes:


Aluminum Free-Standing 2 pc. Mast w/Halyard-Raised


Boom Vang


Mainsheet


Kick-Up Centerboard


Kick-Up Rudder


Mainsail


Other Options
Specifications
| | | |
| --- | --- | --- |
| Length Overall | 10'2" | 3.10 m |
| Beam | 4'1" | 1.25 m |
| Weight | 90 lbs. | 40.9 kg |
| Draft Board Up | 6" | 0.15 m |
| Draft Board Down | 2' 6" | 0.76 m |
| Sail Area | 45 sq ft | 4.17 sq m |
| Mast Height (2 pcs.) | 16'0" | 4.88m |
| Max. Capacity | 4 | |
| CE Classification | D | |
| Max HP | 2.5 HP | 1.87 KW |

*Hunter Marine reserves the right to modify or change, without notice, any materials, specifications, equipment and/or accessories. All measurements are approximate. Standard equipment may vary for products sold outside the United States.

Hunter Marine
PO Box 1030, Route 441
Alachua FL 32615
Phone: (615) 352-6935
Fax: (615) 356-5168
www.huntermarine.com