See more articles
The Mamba 350: A Stable Powercat
A hydrofoil reduces rolling and steadies the ride at high speeds for this catamaran hull.
Most power catamarans deliver a smooth ride in rough seas, but some can be unstable while drifting, rolling in a jerky motion. And, at cruising speeds, some cats can be susceptible to yawing. A new Florida builder is using a hydrofoil system in a 35-foot center console cat to reduce rolling and steady the ride at high speeds.





Richard Pike, president of Mamba Marine in Sarasota, introduced the Mamba 350 in March at the Palm Beach Fla., Boat Show, and I had a chance to drive the boat in Sarasota on a day perfect for a cat test: 18-knot winds with seas 3 to 5 feet. The boat ran through the white-capped waters of the Gulf of Mexico without slamming. I put the engines in neutral and positioned the beam to the sea to gauge stability. No snap rolls. And in a following sea, the Mamba maintained a straight course.

The hydrofoil not only brings stability but raises the running surface to reduce drag and improve efficiency, says Pike. With twin 300-hp Suzuki 4-strokes, the boat cruised at 39 mph, burning 19 gallons per hour, which equates to 2.1 miles per gallon. "That's very good for a boat of this size," says Pike, a former Wall Street investor who used to race small sailing catamarans.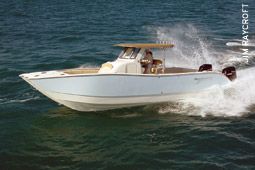 In calmer water, the Mamba — built with a solid fiberglass bottom and vacuum-bagged, cored hull sides and decks — leaned into its turns in monohull fashion. Absent were the strong pulling forces common with some cats during high-speed turns — in other words, the boat goes to port, you go to starboard.

The Mamba's hydrofoil design, called Hysucat, has been around since 1980, developed by Gunter Hoppe of South Africa. On the Mamba, the stainless steel foil is through-bolted into the hulls, spanning the tunnel, and doesn't extend below the boat's draft. A vertical strut also supports it.

The simple deck layout of the Mamba 350 includes seating in the bow, an open cockpit and a head in the console. Mamba, a semicustom builder, will arrange hatches, storage areas, live wells and other components as the client wishes.

Pike has sold four boats, including three sales at the Palm Beach show. The 350 will also be offered in an extended console version with a berth and an express version, says Pike. Base price with Suzuki 300s is $208,500. For more info, visit the Mamba website.



Editor's Note: Chris Landry is a staff writer for Soundings Magazine. This article originally appeared in the June 2009 Dispatches.