See more articles
The Rockharbour 42: A Real Head Turner
This Turkish-built boat sells in the U.S. through Lazmar International in Maryland.
With its plumb bow and fine entry, the Rockharbour 42 looks like a Down East lobster boat. But its pronounced bow flare also indicates a Carolina influence. That combination — not to mention its gentle tumblehome transom — makes the Rockharbour a real head-turner.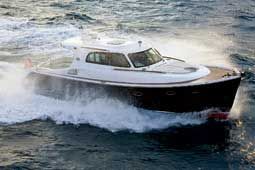 The Turkish-built boat, powered by twin Volvo Penta IPS500s (370 hp), is sold in the United States through Lazmar International of Severna Park, Md. The hull, deck and pilothouse are cored with closed-cell foam for weight savings, and the fiberglass skins are bonded to the core using vinylester resin in the vacuum-bagging process, says Lazmar managing member Hakan "H.B." Bolel.

The modified-vee hull has a 66.5-degree entry, reducing to 22 degrees amidships and flattening to 15 degrees at the transom. The 42-footer has a beam of 13 feet, 8 inches, a draft of 3 feet, and a displacement of 26,400 pounds.

The IPS500s push the boat to a 38.5-mph top end. At a cruise of about 32 mph, the engines burn roughly 25 gallons per hour, which equates to nearly 1.3 miles to the gallon, says Bolel.

The builder offers three different interior layouts. The first includes a master stateroom forward and a starboard-side double-bunk stateroom. For the second layout, the port-side galley is moved from the saloon area and takes the place of the second stateroom. With the third layout, the second stateroom has a large single berth, and the galley moves from the port to the starboard side in the saloon area.

The swim platform and cockpit sole are teak. There's ample seating in the cockpit, as well as a dinette area in the saloon.

The Rockharbour 42 sells for $601,694 with the twin IPS500s and $632,768 with twin IPS600s (435 hp). The flybridge version is $683,615. Contact Rockharbour Yachts, Severna Park, Md. Phone: (410) 777-5172



Editor's Note: Chris Landry is a staff writer for Soundings Magazine. This article originally appeared in the August 2009 issue of Soundings Dispatches.