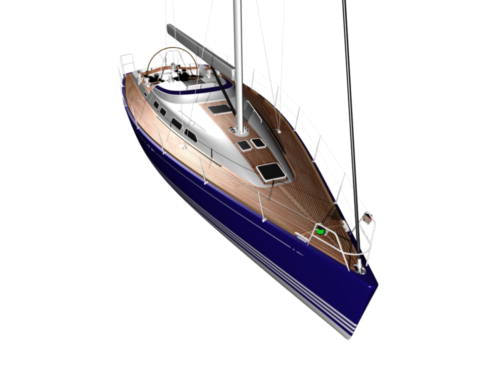 They've kept this one quiet for months. Since early in 2002, Denmark's X-Yachts has been quietly working on a new model in their Performance Cruising line (started in 1990). The new X-43 fills the gap between the X-412 and the X-442, the first will launch next month.

The X-43 is billed as a cruiser/racer, a popular moniker these days, but one that the Danish builder can justifiably lay claim to. They were the builders of the most winning models of the former 1/2 and One Ton Cup regattas in years past; more recently their trophy collection and bragging rights includes the 2002 Commodores' Cup, where a French team won with two IMX40s and an X-442.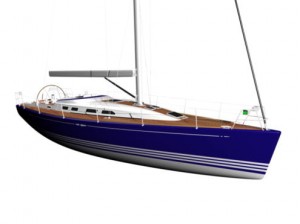 There are four different interior layouts available: both a "Classic" and "Modern" version in either 3 or 4 cabins. In all versions the aft two cabins are the same. In the Classic version, there is an L-shaped sofa to starboard, with a three cushion inline sofa to port. The Modern version moves the galley to port, puts a large semi-circular sofa with table and two center cushions (the table can fold down to create a large sleeping area) to starboard. In both Classic and Modern there is a choice of a single berth forward, or that space can be divided into two cabins, one a single bed (and little else), the other a double V-berth.

Hull and deck are built in a sandwich construction made up of isolatic polyester resin and biaxial E-glass fabric. Further reinforcements are with particular positioned biaxial E-glass fabric in high stress areas. Core material is 15-30 mm compressed Divinycell. Solid laminate is used around keel, rudder and through-hull fittings. As with all X-Yachts, the new X-43 is build in accordance with the European CE-Certification and meet the requirements of the CE-directive 94/25/CE (category A -"ocean") for recreational crafts. One of the requirements the category defines is that a yacht must be designed to operate in waves of up to 7 m and winds of Beaufort force 10 or less.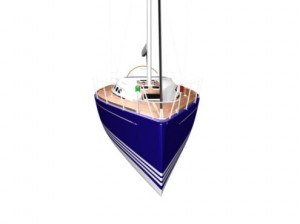 The keel consists of a lead bulb hung from a cast iron fin. The rudder blade is a sandwich construction made from laminated biaxial fibreglass and Divinycell. Rudderstock is solid aluminum with roller bearings.

On deck, the "German main sheet system" consists of 1 x 75 mm block integrated into traveller car, 6 x single 60 mm ball bearing blocks and 1 x double 60 mm ball bearing block. The mainsheet is led backwards under deck to each side and appears just forward of the mainsheet self-tailing winches within reach of the helmsman.

Winches are Andersen, electric winches are available as an option. Blocks and track are from Frederiksen.

Both the triple-spreader mast and boom are aluminum. The forestay is a Profurl type B35 drum type, the drum is placed below deck with the furling line led back to the cockpit for easy handling. All halyards, reef lines and control lines are led via deck organisers to two winches on the cabin roof, which are adjustable from the cockpit.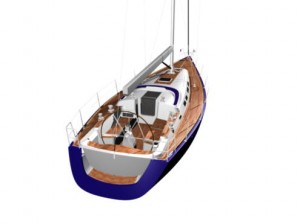 Power is from a Volvo 2040S 38 HP diesel (a 55 HP is an available option) with S-drive and a 430mm folding propeller. A heat exchanger from the engine takes care of the 15 liter hot water tank (it can be run with 220v shore power when in port). Total water capacity in the fresh water tanks is 280 liters.

The first X-43 is scheduled to be launched in April, X-Yachts has 20 clients already on the books for delivery throughout the year.

Specifications
| | | |
| --- | --- | --- |
| LOA | 12.94m | 42.5 ft |
| LWL | 11.45m | 37.6 ft |
| Beam (max.) | 3.97m | 13.0 ft |
| Draft | 2.20m | 7.2 ft |
| Ballast | 4300 kg | 9480 lbs |
| Displacement | 8600 kg | 18960 lbs |
| Mainsail | 53.4m2 | 574.8 ft2 |
| 136% Genoa | 53.6 m2 | 577.0 ft2 |
| 108% Genoa | 42.6m2 | 458.5 ft2 |
| Spinnaker | 132 m2 | 1420.8 ft2 |

X-Yachts A/S
Fjordagervej 21
DK-6100 Haderslev
Denmark
Tel. +45 74 52 10 22
Fax. +45 74 53 03 97
info@x-yachts.com www.x-yachts.com