See more articles
Tige RZR: Small Boat, Big Capabilities
At only 20 feet, the RZR can fit in your garage – but on the water it throws a major wake.
Wakeboarding may be about all things big — from rider hang-time to passenger room — but Tigé's RZR attempts to package the same thrills of the brand's bigger models into the outline of a mere 20-footer. Why? Not everyone wants, or can afford, a towsports behemoth. Tow-vehicle considerations, garage space, and length-restricted waterways are three more reasons to not super-size.





The RZR features Tigé's one-two punch of the Convex V hull and TAPS (Tigé Adjustable Performance System) trim plate. Like a wakeboard, the hull itself has rocker; at wakeboard or wake surf speeds, it naturally settles at the stern to produce a sizable wake. Prefer to slalom ski, or just want to trim it out to match the conditions or load, and the TAPS plate forces the bow down so that the boat runs flatter through the water.

Serious wake types will still want water ballast. Tigé offers three options, a standard 900-lb. package, a wake-surf targeted 1,600-lb. option, and an all-out 2000-lb. Pro package for those who can handle serious airtime. The advantage of TAPS is that a driver can tailor the wake from flat to fat in seconds, but the pro wakeboarders I've spoken to reveal they use ballast to bump up the wake size, and the TAPS system to dial in the desired shape.

Cool features abound. A touchscreen display brings iPad-like control to the helm, and provides access to everything from ballast load to cockpit lighting. Memorized presets also allow you to store your frequent rider's favorite settings. I like it, but the display can be a little hard to see when the sun's glare is hitting the screen just right.

Tigé's cast-aluminum tower is stylish, and proved rock solid with even the world's best wakeboarders in tow. Owners can choose to load it up with board racks, lights, and speakers to trick out their ride. Those with height concerns will be pleased by how easy this spring-loaded design is to lower -- but be warned, it's still a little heavier than you might anticipate. Do it as a team, rather than solo. Your back will thank you.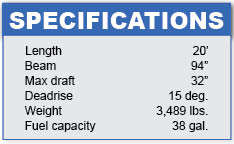 One final touch? Tigé's Transom Activity Center is a fancy name for what is essentially a nice flat spot to gear up on the transom. The transom itself angles inward, allowing riders to easily slip their feet into bindings. A wet storage area below is great for towropes. When not underway, toss a few drinks in the cupholders and lounge.

I reached 40.9 mph with a 343-hp PCM 5.7-liter V-drive. At tow speeds around 23 mph, it burned about seven gallons per hour.

Maybe good things do come in small packages.

- Jeff Hemmel

For more information, visit Tige Boats.

Also read Brett Becker's Tige RZR: Maximum Wow Factor.