See more articles
Tige Z1: A Well-Rounded Tow Boat
At 21 feet, Tigé's Z1 delivers high style, form and function for a downright reasonable price.
As water sports have become more diverse, the tow boat market has undergone something of a paradigm shift. Yes, it is still possible to buy a dedicated direct-drive inboard strictly for slalom jocks hell bent on rounding all the buoys at 35 off. And, of course, you can still buy a boat with provisions for a gazillion pounds of ballast to create monster wakes that will launch riders into the sky—and destroy any rickety docks nearby.





But, as you might imagine, the core of the market is in boats that do everything. Most buyers want the interdisciplinary boats that can pull skiers with soft flat wakes, pull dudes on wakeboards, wake skates and surfboards, and putter around the lake with the kids on one of those enormous inflatable water toys.

That's where Tigé's Z1 comes in. It's also where it excels. In terms of style, the Z1 is unmistakably a Tigé. The hard sculpted lines, sharp graphics and deeply contrasting gelcoat color schemes give it away in an instant. In terms of function, the boat's ability to do it all begins with Tigé's proprietary ConvexV hull and TAPS trim system.



For getting on plane quickly and creating soft, flat ski wakes, lower the TAPS wake plate down to the number 1 or 2 position on the trim gauge. For pulling boarders, trim it up to 7 or 8. At wakeboarding speeds, say around 18 to 20 mph, the hull settles into the water to throw the larger wakes boarders love.

In standard trim, the Z1 doesn't come with a ballast system, but you can get three different systems as options. For example, you can get a 900-pound system, a 1,500-pound setup or a Great Lakes freighter-like 2,000 pounds of ballast.

In standard trim, the PCM 343-horsepower 5.7-liter V-8 will do the trick, but you also can get a more economical 275-horse 5.0-liter. Other nice nuts-and-bolts features include waterproof Deutsch electrical connectors, through-bolted aluminum engine mounts and electronic throttle control. You can't see those features, but they go a long way toward making a higher quality boat.



What you can see includes a richly padded bow area with a rear facing "bucket" seat all the way forward and handy grab rails to help keep you in place. The grab rails also are concealed so they don't spoil the boat's profile. You can get an optional bow filler cushion if you prefer a playpen setup.

Behind the windshield, you get a nice wide U-shape lounge that wraps from the observer seat down the port side to the rear bench and forward to the driver's bucket on the starboard side. Despite the width of the seats, floor space is still ample.

The full-width sunpad features lids hinged on the sides for easy access from the cockpit or swim platform and sturdy latches tucked into the padding. The swim platform itself is positive molded fiberglass with rubber matting for sure footing.

In standard trim, the boat has enough features to satisfy the diverse needs of any boating family, but a couple of choice options would make it a boat you could keep, even as your skills improved. With the standard 343-horse engine, the Alpha Z tower, a premium sound system and a boat cover, the Z1 prices out at $53,499, which includes a trailer.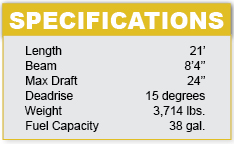 Anyone who has paid attention to inboard prices in recent years should recognize that as an incredibly competitive price for a tow boat as well rounded as Tigé's Z1. Adding an optional ballast system would up that price a bit, but would make the Z1 the well-rounded boat to keep for years to come.

For more information, visit the Tigé website.