See more articles
Tige Z3: Modernized Tradition
Tigé's back-to-the-future V-hull design maximizes comfort and also provides multiple towing options.
Tigé may not have brought the pickle-fork design to the wake sports market, but there's little question the company is a true believer in the design. Pickles abound in the Texas manufacturer's lineup, and for good reason. They carry the hull sides forward into two "tines," rather than a tight V, providing more room for passengers. And in wake sports, it's the more the merrier.





Not everyone, however, is tickled by the pickle. That's one reason why Tigé's newest design is a more traditional V-shape forward. The difference? Whereas many traditional bows are cramped and left to little more than ski and board stowage, Tigé carefully balances their floorplan to make the bow passenger-friendly. I found ample room for two adults to stretch out, playpen-style. Lift a central cushion and a huge cooler keeps drinks chilled.

Though the style is old-school, it's got Tigé's trademark edge. Multiple facets are built into the shape from bow to stern, giving the boat a greater resemblance to the RZ line than the aging Vé models. The styling is backed up by colors and graphics that reflect a similar new-school attitude. Even something as simple as an aft bench seat back is dressed up with stitching and multiple panels. Style might not be everything, but in this market it counts for a lot.

While the looks are new above the waterline, Tigé's trademark Convex V hull is still at work below. Like a wakeboard, it has rocker, or an upward curvature at the bow and stern. At wakeboard or wake surf speeds, that rocker lets the boat naturally settle in the water, producing a larger wake. To produce a more ski-friendly wake, or tailor wake shape to personal preference, Tigé uses a large trim tab at the stern. Trim it down, and the bow drops, and wakes get smaller and less obtrusive. The change takes just seconds via a switch mounted on the throttle lever. The tab, known as TAPS (Tigé Adjustable Performance System), also allows a Tigé to trim to match load or conditions, something unheard of on most inboards or V-drives.



TAPS tailors the wake on the fly to suit most recreational needs, but hardcore riders will want still more. Multiple ballast options, from a base 900 pounds to a pro-level 2,000 pounds, pump up wake size even further. Tanks can be filled individually. Wakeboarders can fill them evenly to produce massive ramps, while wake surfers can weight the boat to one side to produce that endless wave.

Tigé's cast-aluminum Alpha Z tower proved rock solid during my test run, even when pulling an assortment of pro riders. Lights and speaker mounts are built in, and the tower can be lowered with relative ease by the removal of only two pins. (Thanks to spring-loaded hinges, it's technically a one-man job, but use two. I found the tower a little heavier than I expected!) Swivel board racks keep the cockpit uncluttered, and easily pivot inboard. A new clamp-style rack will be offered for 2012, in addition to the traditional bungee-secured style.

At the stern, the transom is recessed and features a handy seat, making it easy to gear up to ride. Wet stowage compartments are located to the side for items like towropes and drinks. The sunpad features a non-slip center walk-through; raise two parallel cushions on pneumatic struts, then flip the center panel and you'll find a cushioned backside that converts the area into a full sunpad without the need to stow a cushion.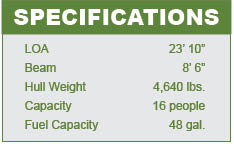 With everything from music to ballast, wake boats are getting increasingly complex. Tigé condenses most vital functions into an iPad-like, touchscreen display at the helm. From here you can monitor engine status, turn the sound system on and off, fill and empty ballast tanks, and even store rider presets, including speed control and ballast preferences. It's intuitive, techy, and cool, but like most screens, occasionally difficult to read in bright sunlight.

Like most ski and wake boats, the Z3 drives with precision. Bowrise is almost non-existent, and cornering is aggressive and precise. I hit 42.1 mph with a 343-hp PCM 5.7-liter engine, and noted a best fuel economy of 3.1 mpg at 30 mph. Downside? The lack of directional thrust can make for a little less precise handling around the dock, but that's a typical inboard trait. You learn to work with it.

Final impression? Tigé has not only brought edgy styling to a more traditional bow shape, but the company has done a good job of making that bow usable for more than just kids or stowage. The TAPS system also gives the boat a lot of versatility, tailoring it for a variety of tow-sports pursuits.

That combination should make the Z3 not only a good fit in the Tigé lineup, but also a better fit for consumers who'd rather eat their pickles than ride around in them.

For more information, visit the Tigé Z3 page.



Jeff Hemmel writes for Boating, PersonalWatercraft.com, and Powersports Business. The former Senior Editor at Watercraft World, Jeff is a multi-time award winner as well as a 2008 inductee into the IJSBA Hall of Fame. His first book, The Anti-Pirate Potato Cannon...and 101 Other Things For Young Mariners To Try, Do, & Build On the Water, recently received a bronze medal in the 2010 Moonbeam Children's Book Awards. For more info, visit Jeff Hemmel's website.