See more articles
Tigé Z3: Video Boat Review
The Tige Z3 offers a traditional bow with updated tow-sports features.

Read Jeff's Tigé RZ Boat Test Notes

Read Tigé Z3: Modernized Tradition

Video Boat Review Transcript

Thanks to its ability to broaden the bow cockpit, the pickle fork design has proven immensely popular in the tow sports industry. But let's face it—not everybody wants a boat that looks like an overgrown salad utensil. Tigé's Z3 brings in all the edgy styling of their premier series into a more conventional bow shape. The trick? They've actually increased the space up here to make it a useable space for passengers, rather than just toys or wakeboards. Let's take a closer look at an old-school boat with a brand new attitude.

Tigé Boats Interview

Daniel, a lot of v-shaped bows these days just seem like a catch-all spot for skis and wakeboards.

Daniel Gutierrez, Tigé Boats: That's definitely not the case with Tigé. We do a balanced floor plan. So that every aspect of this boat is an area you can use for people, storage and fun. So you've got a wide open bow, big cockpit design, and the back of the boat activity center is perfect for hanging out.

And another unique thing about this design is you can really customize this boat to look however you want.

Daniel: Absolutely. Tigé is pretty much a production custom. You've got your set standards in the things that you can color, but we've got numerous panels, interior accents, all sorts of details that you can customize to make this boat your very own.

Pro Interview

Dominic, wakesurfing has really taken off. Why is it so popular?

Dominic Legace, Tigé Pro Wakesurfer: Just like a sport it's pretty mellow. There's not that many impact. And it's just for everybody, for the dad, the mom, the little kids. It's just like a sport for everybody.

You guys loaded up the boat kind of uniquely with ballast to give you the best wake. Can you explain to me what you do?

Dominic: It depends if you're regular or goofy. But you want to load put as much weight as possible on the side you're gonna ride. The more weight you put in the bigger is the wake.

Performance

Like most high powered inboards or V drives, the Z3 drives like a sports car, jumping on a plane with little bow rise and railing through a corner. While the lack of directional thrust takes some getting used to around the dock, it's a tradeoff most buyers will learn to quickly work with.

Unlike most inboards, the Z3 can also actually trim thanks to the TAPS wake plate. Top speed was 42.2 mph, and best fuel economy was 3.1 mpg at 30mph.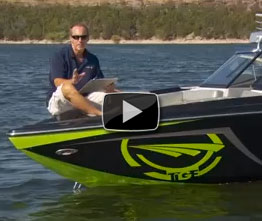 Features

Tigé may have brought its edgier styling to the Z3, but below it's still the familiar convex V hull. Like this wakeboard, that hull has rocker, meaning a curvature from end to end. At wakeboarding speeds, it naturally settles into the water, pushing up a larger wake. But to that they add the TAPS trim plate, which is located at the transom. Trim that down, it pushes the bow down, and that settles down the wake for recreational slalom skiing.

Unlike some other brands I've reviewed, changing the position of that TAPS plate and changing the shape of the wake takes only seconds via this throttle-mounted switch. To further fine tune that wake shape, Tigé's touch screen display allows me to fill or dump ballast, from tanks located both fore and aft. The display also allows me to control all the major functions of the boat. Anything from the gauges, to the lights, heater, DVD player, and of course, the stereo.

My only concern is when the sun is low and the light is glaring right on the screen it can sometimes be hard to see the display.

While driving, I found that Tigé's alpha Z tower offered a reallly solid pull, even when I was pulling professional wakeboarders.

On my boat, I hate it when guests come aboard and tromp over the sunpad. This nice walkthrough gives easy access from cockpit to swim platform, but if you want a lounge, flip up these two cushions, flip this board over, flip the cushions back down, and you've got an unrestricted sunpad to lounge on.

Wrap Up

Just like not every towsports buyer will like a pickle fork, not every buyer wants a hard core wakeboarder's massive launch ramp. By using the TAPS system and ballast, Tigé satisfies a broad range of users quickly and easily. I think that makes this Z3 worth a look when considering your next tow boat. Especially if you're not quite tickled by the pickle.