See more articles
Top Jon Boats of 2022
Here are the top new jon boat models taking over the back bays and marshes in 2022.
Jon boats are the workhorses of back bays and marshes. These small, practical boats are usually made of aluminum. They are affordable and free of frills, though also highly customizable. Jon boats are great vessels for duck hunting, angling, and even short cruises with the family. Here are nine jon boats that rose above the rest this year, thanks to innovative designs that deliver a mix of comfort, utility, and fishability.
Excel 1751 Viper F4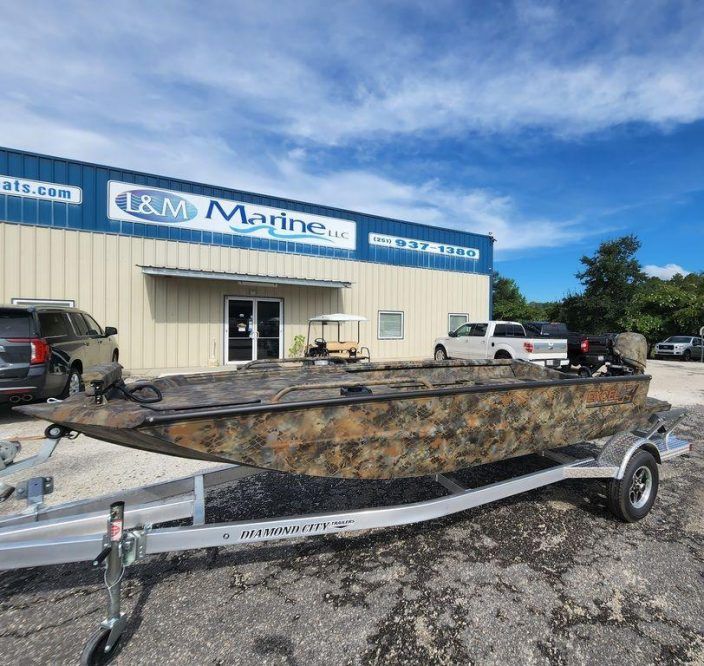 The 1751 Viper F4 is a tank on the water meant for heavy use. It's highly durable, with heavy-duty bracing throughout. This makes it ideal for floating through shallows and marshy water. The model is meant for duck hunting, but versatility comes from extensive storage options. Exel's 1751 Viper F4 is tough enough to take a beating from timber, without needing to break out the bail bucket. Seating on the Viber F4 wraps around the interior and aft. The full "V" deck remains open at the center, with plenty of space to move about, which anglers will appreciate along with the livewell. At the bow, there's additional room to step up and cast. You can also add a trolling motor to the bow to increase its fishability. Another fun feature aboard is the cup and shell holder, which can be mounted on an accessory rail.
SeaArk RX 170 Side Console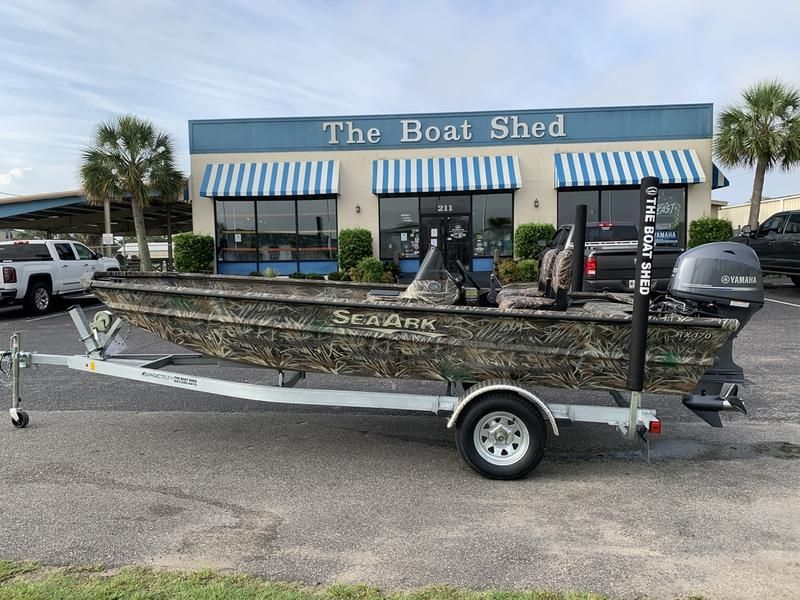 The SeaArk RX 170 Side Console brings serious fishability to anglers looking for a boat to comfortably cruise the shallows. It's optimized for movement so anglers can stay on their toes and fight fish around the boat while maintaining a full casting range. This jon boat also boasts a 9.5-gallon aerated livewell for keeping bait or catch alive. The SeaArk RX 170 Side Console is available in shallow grass camouflage, opening up duck-hunting options. The construction on this all 5052 aluminum boat also makes it ultra-durable. It has a .125 gauge tread plate floor and a 3/16" extruded center keel. Extruded oversized caprails also lend additional strength without sacrificing comfort. The RX 170 Side Console has two fold-down fishing seats elevated by a pedestal to create a cozy spot for running or casting, with plenty of room between them.
Xpress Boats HD16DBX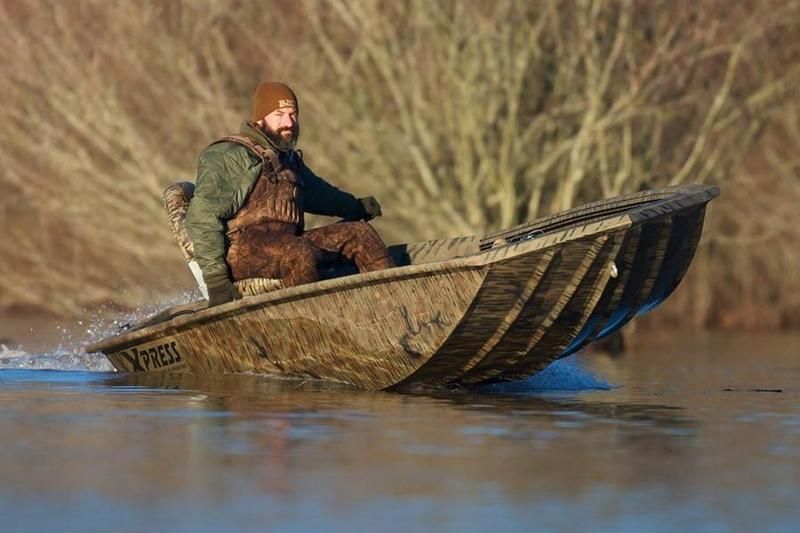 This all-welded jon boat is tough and built for heavy use on the water. The Xpress Boats HD16DBX provides an ultimate platform for duck hunting and is enough of a blank canvas to be decked out for other water activities. It has a lowered front deck with lockable storage and an enclosed rear deck. Plenty of space is available to stow everything from safety gear to tackle. The trolling motor mount expands boating options that compliment this boat's shallow draft. One key reason the HD16DBX earns a spot on our list is its hydrodynamic hull design, which is great for carving winding marsh corners. There's ample space to sit and hold on throughout the "K" style aft deck. Longitudinal rib construction brings solid durability. Overall, this is a highly versatile boat that's great for a variety of activities and traversing shallow waters.
Alweld 1648 Marsh LF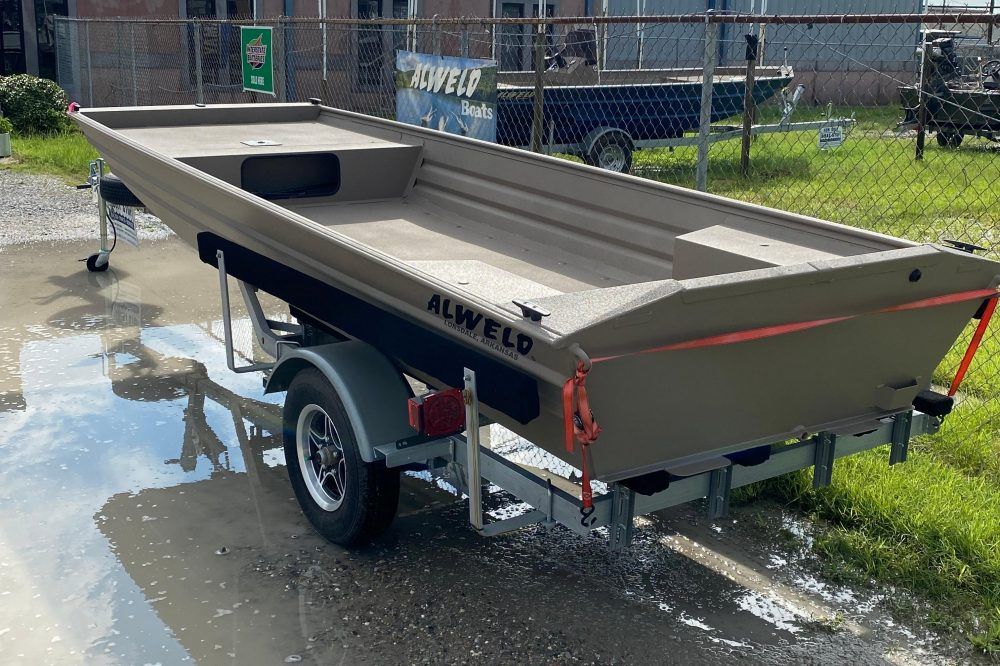 The 1648 Marsh LF is from Alweld's Marsh lineup, with boats between 16 and 18 feet. This agile jon boat can maneuver marshes with ease, while also allowing owners a variety of options to enhance their experience. The Marsh lineup is available in multiple tiller configurations that change the deck layout and shape of the boat. The LF configuration has pod seating in the rear and a seat base on the deck. The RD Package includes a rear deck with lid, three seat bases on the rear deck, and an additional seat base up front. With both the LF and RD Packages, the bow is available in flat and vee configurations. Other notable options are a rod box and aerated livewell, multiple transom lengths, bench seating, and a trolling motor setup.
Lund 2070 Predator SS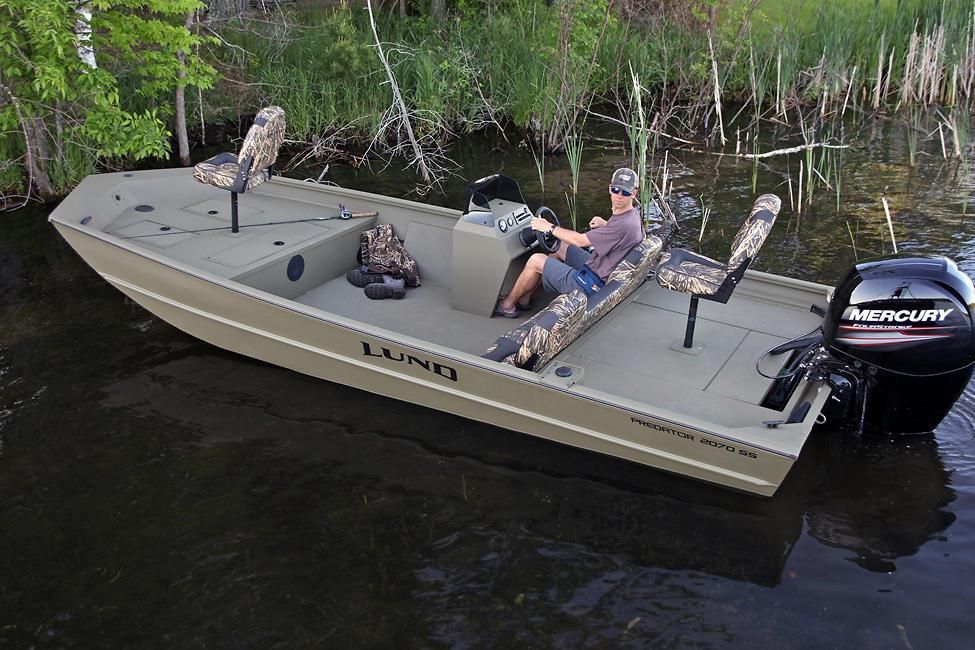 If comfort is your top priority, the Lund 2070 Predator SS is the way to go. This model leaves behind backaches and bumpy rides, opting for a smoother cruise and elevated seating. It's also very stable, thanks to a textured flat bottom. Equipped with the max 150HP, the 2070 Predator SS tops out at 51-to-53MPH. The whole family can enjoy an outing on this jon boat, since it has a maximum capacity of seven people. There's plenty of rod storage onboard. A 23-gallon livewell is situated at the front with enough space to hold bait or large catches that need to be weighed. Plenty of storage spaces can be found throughout the boat, so no need to pack lightly this time.
Crestliner 1546 Retriever Jon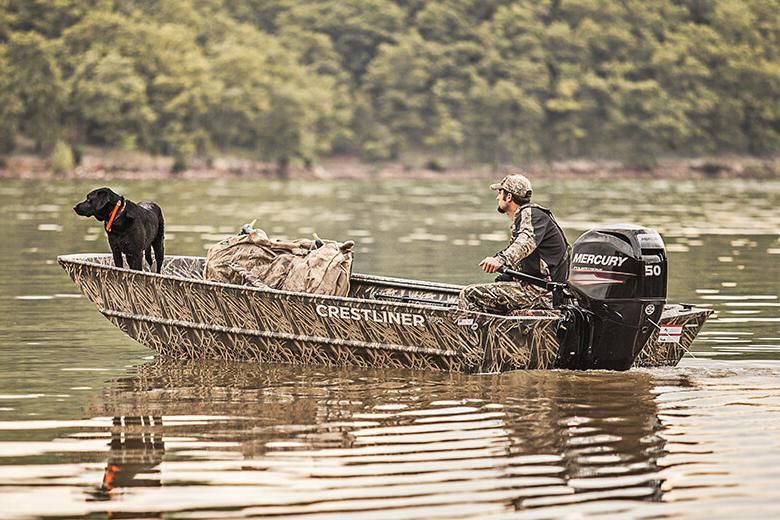 The Crestliner 1546 Retriever Jon is a great jon boat for anglers and hunters alike. It's an affordable option for many and has all the basics needed for a successful trip on the water. The bow casting platform provides anglers the option to step up for better visibility when needed. It's nice and stable, thanks to 1546 Retriever Jon's flat bottom. The rear flat floor is another stable area for casting. Hunters will appreciate that camo patterns can be applied to the floor, as well as the exterior of the boat. One cool feature is the Suremount Gunnel System. A new, 45-degree mount allows owners to perfectly place accessories along the gunnel by sliding them. Adding rod holders can seriously up this boat's slow trolling game.
Rabco 16' Bucaneer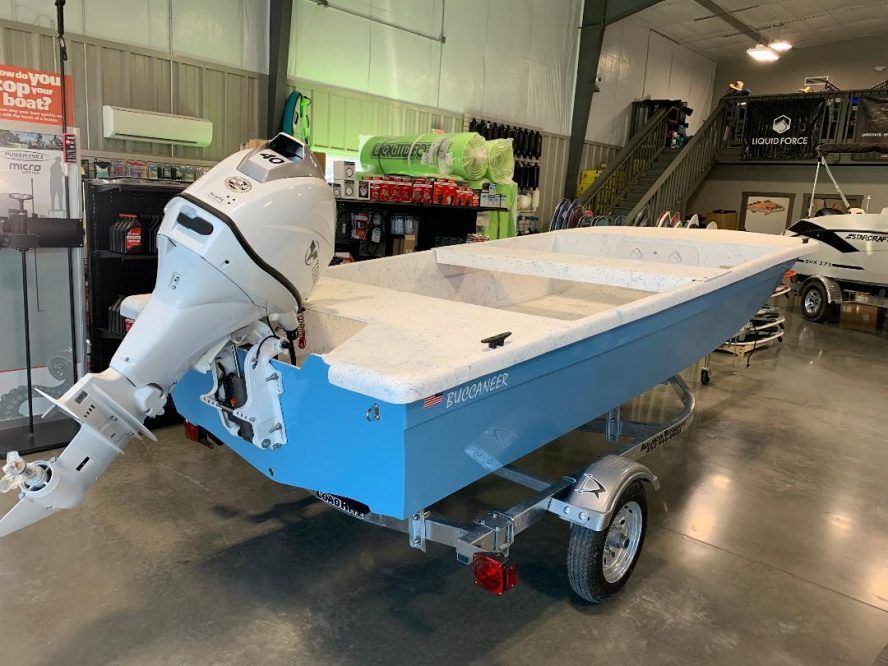 The Rabco 16' Bucaneer is an excellent jon boat for fishing with the family, cruising the back bay, or whatever strikes your fancy on a nice day. One unique feature of this jon boat is its ability to tow a water skiier when properly outfitted. This vessel doesn't have many frills overall, but optimum comfort can be delivered through customization. A leaning post and backrest with built-in rod holders, fiberglass front corner seats, and a front deck live baitwell are all attractive options. Custom options extend to the exterior, and this jon boat comes with a swath of color choices — 32 in total. Additionally, owners will find security from the foam-filled level flotation.
SeaArk 2072 FXT Deluxe CC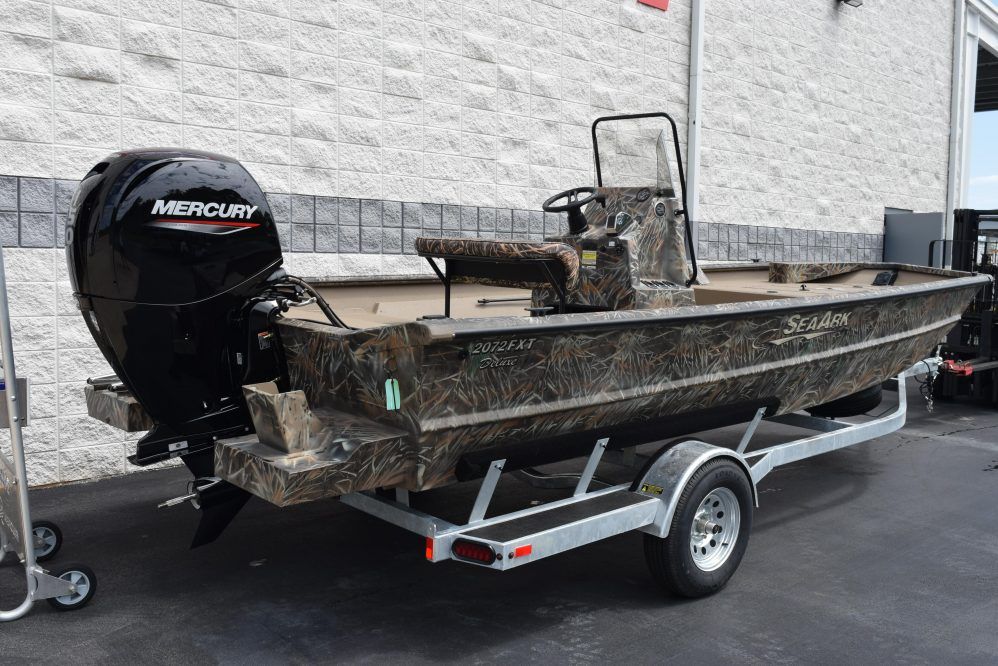 The SeaArk 2072 FX series offers multiple package options that make customizing the boat to the owner's needs easy. Multiple layouts and options are available with the Standard, Deluxe, and Elite editions. A bow storage box comes with every package, and owners can choose from a side console with a 9.5 or 12-gallon livewell. All models boast an extra-wide rear bench seat with storage, too. On the elite model, there are also two fold-down fishing seats and a built-in rear seat box with upholstered seating. Additionally, the Deluxe and Elite models come with trolling motor brackets and four nylon cleats each. Anglers will find that this model is laid out to provide plenty of casting room and onboard movability. The overarching theme of the 2072 FX is customization, allowing boaters to design a jon boat that best fits their unique lifestyle.
Tracker Grizzly 2072 CC Sportsman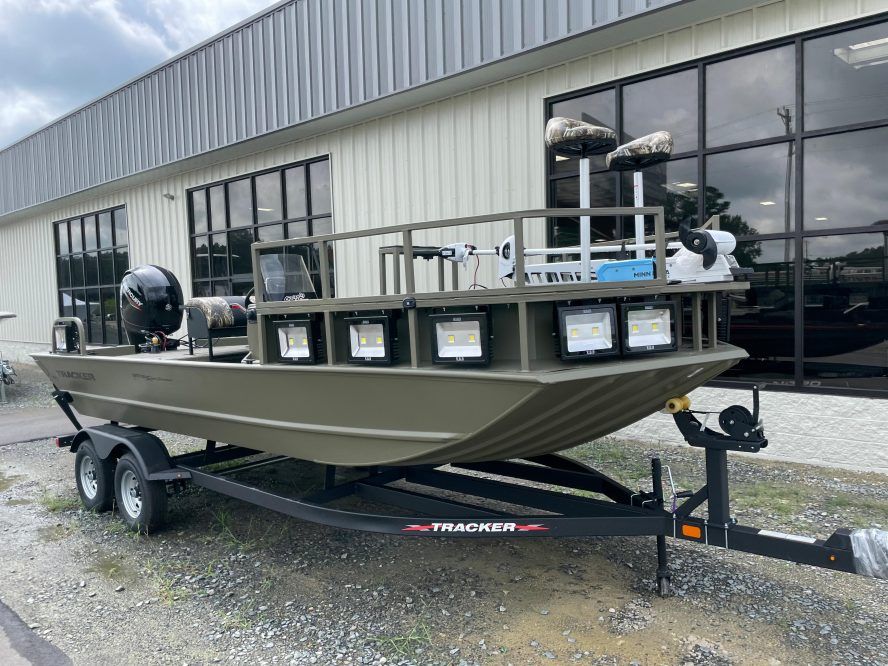 It's hard to beat Tracker's Grizzly 2072 CC Sportsman when searching for a strong bowfishing jon boat. The elevated deck is an excellent platform for upping visibility. It has an army of LED lights that deliver 100,000 lumens to the surface of the water, allowing bowfishers to spot and hunt their targets with ease. Additionally, there's ample lighting inside to make rigging and re-rigging easy. As far as jon boats go, this one is decked out with features. At the console, there's a Lowrance® HOOK Reveal 5 fishfinder and vertical rod holders. In the interior, there are two rear cooler or storage compartments. This vessel is also equipped with a sport steering wheel and hydraulic steering. The Grizzly 2072 CC Sportsman also got some upgrades this year with a new leaning post, storage compartments, and stereo.
While many jon boats share a basic blueprint and aluminum build, many boaters don't realize just how customizable these vessels can be, with many new models coming well-equipped even in their standard forms. Want to learn more about jon boats before you buy? Check out our jon boat guide to learn the ends and outs of these outdoor staples.