See more articles
Twin Vee 400 GFX Review - Beauty and Beast
Laila Elise reviews the new center console fishing monster: the 2023 Twin Vee 400 GFX.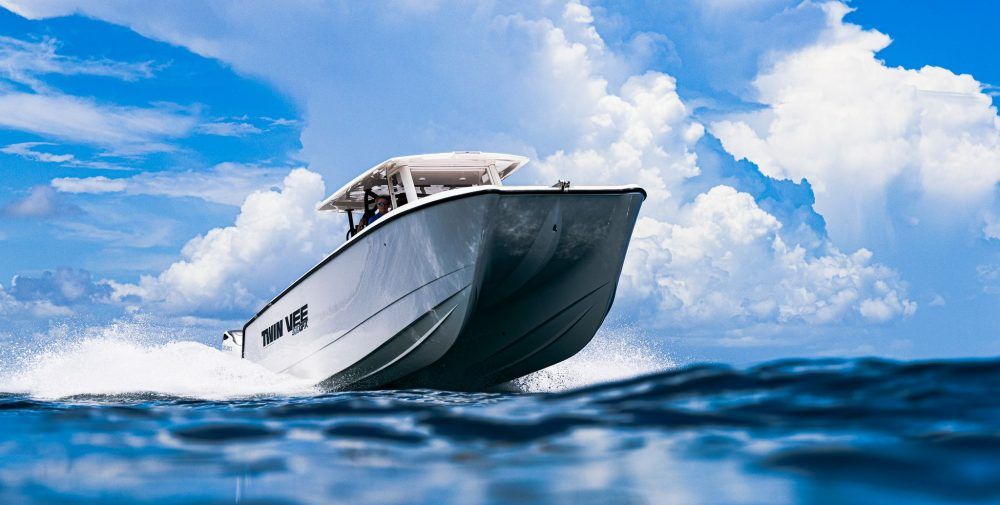 VESSEL OVERVIEW
Ever get to an age or place in your life where laying around, contorting your body and crowding along the side passageways of your center console for 4 hours, popping Advil and pretending that it's not horrendously cramped, whilst you journey out to where the fish are biting, sounds, well…less than ideal? Is it written in stone somewhere that hardcore anglers can't be comfortable while they fish? After we've made the rite of passage and paid our dues, isn't it ok to want just a bit more? Is it possible to have a high performance fishing boat that also affords you the opportunity to bring your family along without them complaining the whole time? The 400 GFX is the perfect solution to these all too common issues.
The new Twin Vee 400 GFX is arguably the best riding powercat in its class and packs quite a punch. You'll be hard pressed to find another center console that matches it in both comfort and performance.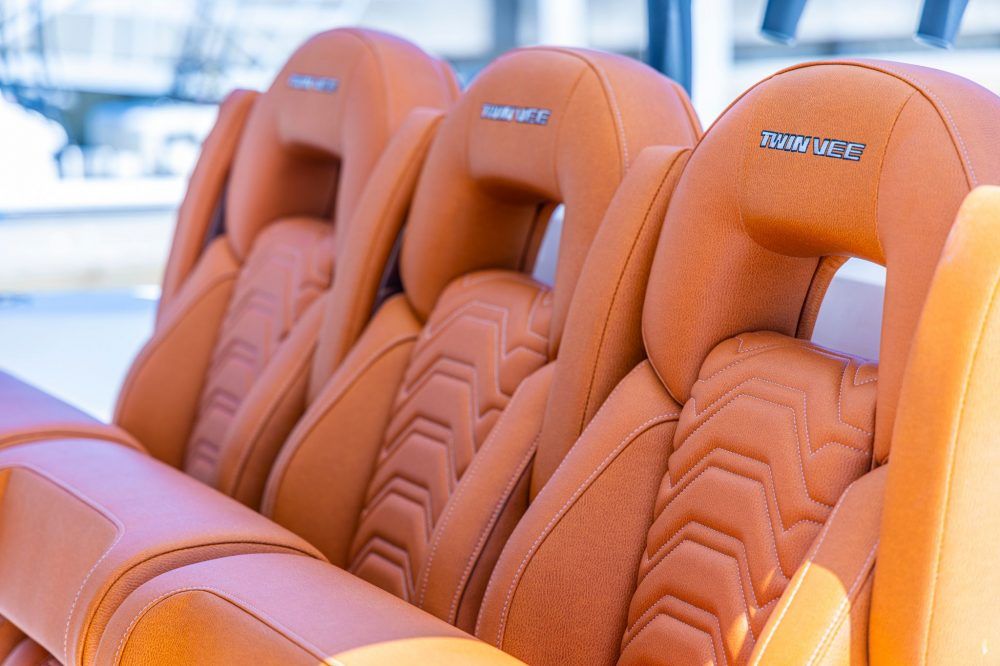 ENGINES AND PERFORMANCE
The 400 GFX comes with quad V6 350 HP Suzuki 350ATXX engines. She cruises comfortable between between 40-45 MPH and has a top speed of around 67 MPH.
STERN TO BOW
You'll have plenty of room for your world class sportfishing crew with 6 comfortable seats at the helm, 2 chaise loungers at the bow and additional seating at the stern. Even your slightly queasy spectators who still need to earn their sea legs and your cosmopolitan YouTube film crew guys will be comfortable in this 40 foot monster with a classic Twin Vee hull. The 400 GTX's luxurious 12 foot beam allows the rider to really feel the extra space on this boat, which is guaranteed to be much appreciated by fishermen of all levels as well as any guests you might bring along for the ride now that you've got the room for them.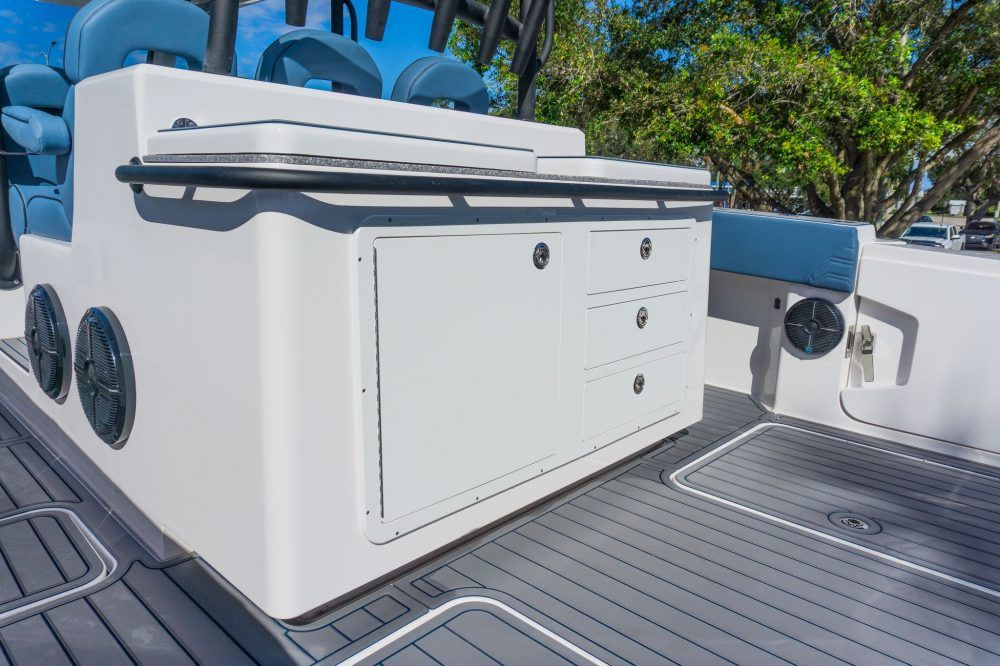 FISHING FEATURES
The upgraded size of this vessel also gives you plenty of room to seek out, chase and house the ultimate catch with 750 gallons of fuel, two 700 quart fish boxes with macerators, and three live wells (one 60 gallon and two 20 gallon). There are plenty of great features for the true angler on this boat - including two 475 quart coffin box tubs with raised stainless steel inserts, fold out tackle/gear storage and under gunwale rod racks on both port and starboard, four electric reel outlets, 20 gunwale mount rod holders, a "hooker" live well sea chest with variable speed pumps, and a rear facing tackle station complete with drawers, just to name a few.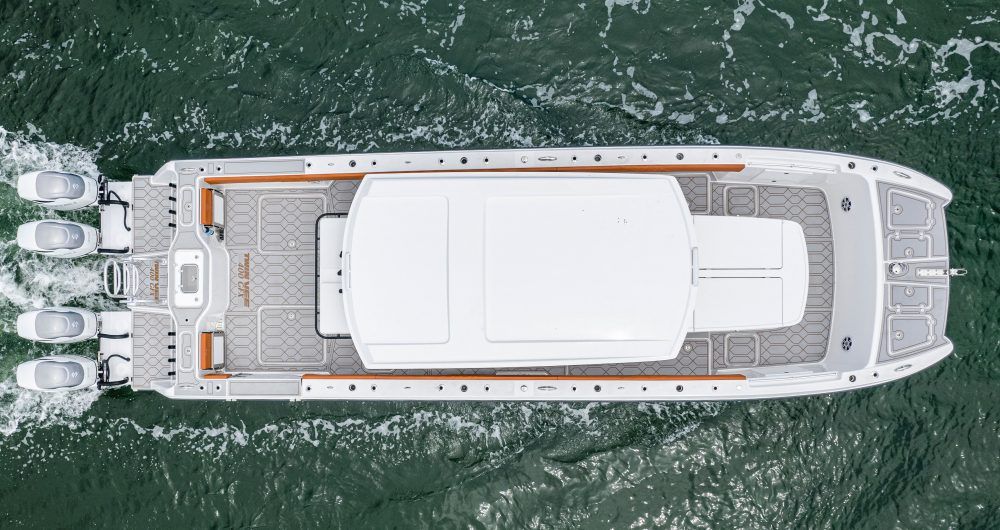 SUMMARY
The 400 GFX is a fully loaded fisherman's dream, yet it maintains sleek, clean lines and a style like no other vessel in its class. From useful functionalities like pop-up fender cleats to polished details like 316 stainless steel hardware and cupholders, it's obvious that every design element has been well thought out on this boat and it really shows. Overall, this center console is an excellent choice for those who are seeking both a high performance fishing boat and a comfortable ride. 
Specifications:
Length (LOA): 40′ 0″
Beam: 12′ 0"
Draft: 27″
Fuel Capacity: 750 Gallons
Max Power: 1,600 HP
Livewell Capacity: 1 x 60 Gallon, 2 x 20 Gallons
COG from Bow: 281″
Dry Weight (w/ Engines): 14,500 lbs.