See more articles
Used Boat Review: Grady-White 280 Marlin
It's easy for one happy owner to understand why this twin-outboard walkaround stayed in production for twenty years.
Joe Beige found himself spending less and less time on the water. Along with running and maintaining his 40-foot sportfishing boat, increasing job demands and a growing family were vying for the 42-year-old West Islip, N.Y., attorney's time.





"I was spending three weekends working on the boat for every one weekend that I used her," says Beige, of his vintage Pacemaker sportfisherman. "I went from fishing five or six offshore tournaments a year to, at the most, one. The Pacemaker was a lot of boat, used a lot of fuel, and needed at least one other crewmember."
Beige decided it was time to downsize. "I wanted to get as close as I could to no-hassle boating," he says. He tossed around a few possibilities — a 29-foot Aquasport Tournament Master, a Phoenix 29 Flybridge— but they didn't quite fit the bill. Then he remembered a boat he grew up with, a 24-foot Grady-White Offshore. "I knew from experience that Gradys were great boats, as my father had owned one," he says."Additionally, Gradys are very popular in my fishing club."

Beige found a 1990 280 Marlin, a twin-outboard walkaround with a big fishing cockpit and a cuddy cabin with a V-berth and head. "It was local and priced very low," he says. "I didn't expect to buy it. In fact, I only went to look at it in order to get a feel for the boat in general to see if it would be something I would consider downsizing to."
Needless to say, he bought it — he paid $15,000 in 2008. The Grady had been on the hard for about three years. She was dirty, and the canvas was torn and shredded. "The boat had obviously been run hard and put away wet," says Beige. "But believe it or not, she really didn't look all that bad, and she cleaned up very nicely."

Beige says the boat has done just what he expected her to do. "I fished her more in the first two months of the season than I had the Pacemaker all of the previous year," he says. "I have been fishing new spots and … I haven't been slaving over her maintenance."

Beige's 280 Marlin is powered by twin 1990 Yamaha 250s and cruises at 28 to 30 mph at 4,200 rpm. The handling, he says, is exemplary. "I can run her at 28 knots in basically any sea condition I encounter from the inlet to the [Great South] Bay," says Beige. "Offshore has been limited, but in one fishing trip this summer, we encountered an honest 3- to 6-foot swell, and the roll on the drift was very comfortable given the conditions. The Marlin has a big-boat feel."



It's also got plenty of room for fishing. "The cockpit size is the first thing that got my attention. It's pretty close in size to my Pacemaker," says Beige. "Considering that that's where the vast majority of the time on the boat will be spent, that was one of my primary concerns."

The cabin, with its V-berth, enclosed head and ample storage space, was another pleasant surprise. "One advantage of her layout is that my wife, daughter and I can overnight on her," he says.
But it's the boat's fishability that's really impressed him. "The Grady allows me to fish anywhere — period," he says. "I can fish a narrow channel with shallow water bordering it and not worry about my running gear. The speed means I'm fishing sooner and can relocate more often to chase the fish or tide. I can fish with my normal crew of four or just run out by myself."

Asked to recall his most memorable day on the water with the 280 Marlin, Beige is quick to reply —it was a day he spent watching someone else do the fishing. While competing in the Babylon (N.Y.) Tuna Club Invitational last season, Beige, working with the local American Legion Hall, took an active-duty Air Force reservist aboard.

"She had never been saltwater fishing before and was thrilled regardless of what she caught," he recalls. "All of us — my crew and I — realized how much we take for granted being on the water regularly. … We'd forgotten how cool a sea robin can be or what a thrill a short fish can be to a new angler. Her enthusiasm was contagious."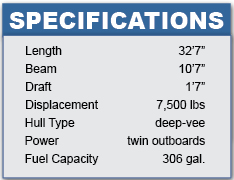 WALKTHROUGH
The popular model (20-year production run) combines the attributes of a no-nonsense fishing boat with the deep side decks of a walkaround and the creature comforts offered by its compact cabin. The fiberglass hull (with positive foam flotation) is a moderate deep-vee design with 19.5 degrees of transom deadrise. Integral fuel tankage supplies more than 300 gallons of gas for the twin outboards (225 to 250 hp each).

The original 280 Marlin cockpit takes full advantage of the 10-foot, 7-inch beam, creating a fishing space of more than 70 square feet — room enough for four anglers. (An aft bench seat was added to the layout in 1995 when the boat became the 300 Marlin.) Fishing gear includes rocket launchers on the hard-top, gunwale rod holders, a transom live well, a fish-box forward, and (on the Marlin 300) a rigging station. The helm station is placed on the starboard side of the raised bridge deck to maximize sightlines, particularly aft. The cabin has a galley, V-berth, an enclosed head and a removable dinette table.



Steve Knauth is a contributing writer for Soundings Magazine. This article originally appeared in the February 2010 issue.