See more articles
Used Boat Review: Lord Nelson Victory Tug 37
Bob and Sandy White's "Renegade" seems to be the perfect boat for their long-distance cruising.
Lord Nelson is England's hero, an 18th century admiral at once intrepid, dauntless and wise in the ways of the sea. Bob and Sandy White's Lord Nelson Victory Tug is a chip off the old block. Since they bought the 37-foot, single-screw recreational tugboat in 2000, they've logged more than 6,000 miles in a series of two- to five-month cruises. And what miles they were. From the retired couple's home port of San Diego, Renegade has plied waters as far east as Maine and as far north as Alaska —and into and out of a chartbook's worth of bays, canals, rivers and seaways in between.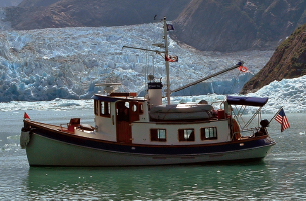 She's handled rolling Pacific swells off an iron-bound California coast, taken spray over the pilothouse in the Johnstone Strait in British Columbia, and weaved through the narrow confines of the Rideau Canal. And the two Coast Guard-licensed captains have only good things to say about this boat, which is sometimes mistaken for just a "cute little tugboat."

"We can honestly say Renegade has fulfilled our expectations," says Bob White, 75. "She has proven seaworthy, stable and comfortably safe on coastal voyages, rivers, canals and locks. She truly is our home away from home."

In 2000, the couple began looking for a salty, seafaring replacement for their Cooper 37 cruising sailboat. Their vision was clear: find a powerboat capable of voyaging to the Pacific Northwest, British Columbia and Alaska. Tugboats, with their workboat roots and seakeeping characteristics, drew their attention. "We did a lot of research and chartered other tug designs before deciding on the Lord Nelson Victory Tug," says White. They found Renegade in Seattle, a 1989 model listed for just over $200,000 and in "Bristol condition." Renegade (hull No. 72) was turn key, with a host of upgrades, including a washer/dryer and custom galley and saloon cabinetry. Headroom (6 feet, 6inches) was a major selling feature, according to White, along with a pilothouse that's separate from the saloon and independent head and shower.



"Like many other LNVT owners, her traditional appearance, layout and displacement-hull design were convincing factors in our decision [to buy],"says White. "In fact, it was the 'love at first sight, got to have that' scene."

Renegade has proved a reliable cruising boat, requiring no major engine work and just a few improvements — a more efficient engine oil pumpout system, rudder cheeks for increased maneuverability, and new navigation electronics. "This is one area we have upgraded over the years," says White. "However, the original radar, autopilot, inverter and FloScan continue to function well with necessary maintenance."

The tug's spars and external bulwarks have been repainted, an aft cockpit awning has been added, and the tug's two seafaring Siamese cats have their own custom on-deck, enclosed "head."

Performance is dependable and economical, says White. Power comes from a 4-cylinder Cummins 4BT turbo diesel for a cruising speed of just over 8 mph at 1,800 rpm. White estimates fuel burn at about 2 gallons an hour.

It all adds up to a pretty appealing cruising package. Renegade currently rests at the dock in San Diego, but new cruising plans are being made. "We're seriously considering returning to British Columbia's Gulf Islands for the 2010 cruising season and beyond," says White, who enjoys cruising for the "relaxation and challenge of a new destination and being with good people with the same interests."

And Renegade seems to be the perfect boat. "We're fortunate in that when we cruise, it's for long periods, so you really appreciate the lifestyle and comforts of the Lord Nelson Victory Tug."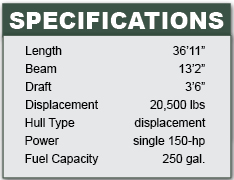 WALKTHROUGH
The Lord Nelson 37 Victory Tug is described by Ed McKnew in "The Powerboat Guide" (www.powerboatguide.com) as a "long-range cruiser with a yacht-like interior to go with her salty profile." It's a distinctive vessel for sure, its tall plumb bow and grand sweeping sheer ends in a low, round stern. The tug rides a displacement hull with a full keel, high bulwarks, and raised pilothouse with wrap-around windows and side doors. The saloon area abaft the pilothouse is surmounted by a steadying-sail mast and provides space for dinghy storage.

The boat had two saloon layouts during its six-year production run that ended in 1989. Renegade's layout, the newer of the two and introduced in 1988, placed the galley to starboard and added a separate shower stall. The stateroom is down and forward, with an offset double berth and shelf and storage space. The head compartment, with separate head and stall shower (replacing an earlier hanging locker), is adjacent.

Steps lead up to the pilothouse and the starboard helm station, which includes a full instrument panel and nav area. Aft steps lead down to the saloon area, which contains the U-shaped galley that can be equipped with stove and oven, refrigerator and microwave. Large windows provide light and ventilation, and a double door opens to the cockpit. Standard power is a 150-hp diesel, housed in a spacious engine room.



Steve Knauth is a contributing writer for Soundings Magazine. This article originally appeared in the December 2009 issue.