See more articles
Valhalla Boatworks V-37 Review
The Valhalla V-37 we ran for our sea trial had triple Yamaha 4.2 liter Offshore V6 F300 outboard engines on the transom and had no problem blasting up to an eye-watering top-end of 63 mph.
The Valhalla Boatworks V-37 is the mid-sized center console in Valhalla's line-up, but it promises very big things – and delivers on them.

There are plenty of center console boats for sale out there and it takes something truly special to stand out from the crowd, but the new line of models from Valhalla Boatworks is grabbing eyeballs from coast to coast. When you consider that Valhalla is born from one of the most celebrated builders of diesel inboard sportfishing yachts on the planet, Viking Yachts, it's really no wonder that these boats have been getting so much attention.

So, just what sets the Valhalla V-37 apart from the throngs of 30-something center consoles on the market? Let us count the ways.




Photo by Valhalla Boatworks

Is the Valhalla Boatworks V-37 ordinary, or extraordinary? We really don't think that's a tough call.

V-37 Performance

The V-37 we ran had triple Yamaha 4.2 liter Offshore V6 F300 outboard engines on the transom, which is nowhere near the boat's maximum power rating of 1,350 horses, yet it still had no problem blasting up to an eye-watering top-end of 63 mph. Cruising speeds were in the upper-mid 40s. In hair-pin turns the hull kept a firm grip on the water, and when we popped through the inlet and started wave-hopping across two- to three-foot rollers in the open Atlantic, zero spray hit the windshield while bumps and thumps were minimal.

A good deal of the credit for such stellar performance goes to the V37's unusual hull. It's a patented Michael Peters design that carries not one but two steps (see Stepped Hulls vs Traditional V Bottom to learn more about hull steps and how they affect performance), which reduce wetted surface to gain a speed and efficiency boost of around 15 percent, while also mitigating wave impacts.

Just aft of the steps the hull bottom incorporates a tunnel with vertical sidewalls to increase lateral stability, for enhanced handling. Called SVVT, the hull design works so well it's what the U.S. Navy chose to incorporate in many of its small craft including the new Vigor Fast Interceptor boats, unveiled at the 2018 Special Operations Forces Industry Conference.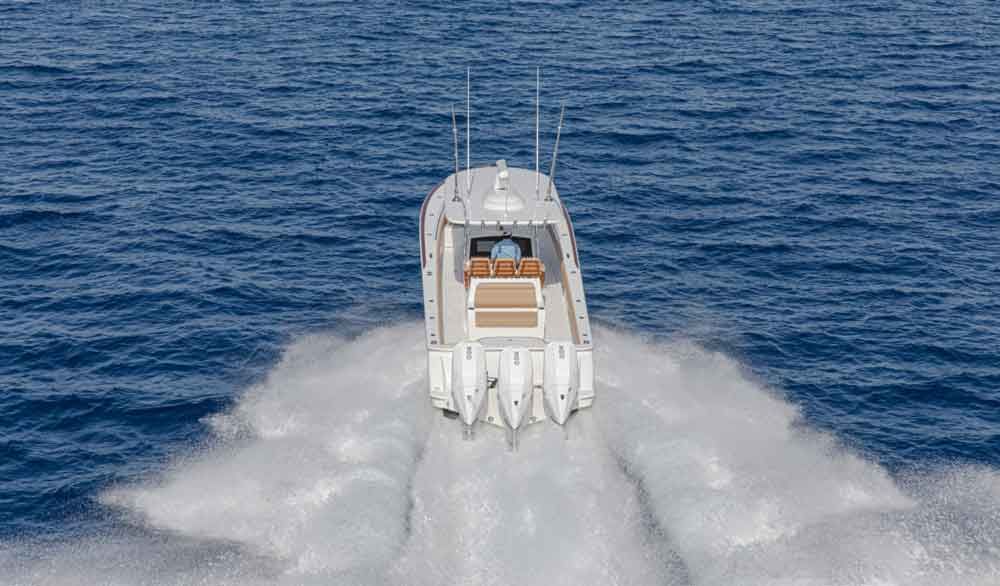 Photo by Valhalla Boatworks

The V-37 rides on a twin-step hull called the SVVT, designed by Michael Peters and chosen by the U.S. Navy, among others, for its performance and ride characteristics.

Valhalla Boatworks Construction

No matter how good a boat's design is, it has to be backed up with solid construction. We know from Viking's history that they build solid boats, and the Valhalla line also includes a healthy dose of modern tech. Molds and parts were developed in-house with computer modeling and five-axis CNC routers. The stringers and structural grid system are resin-infused to maximize strength while minimizing weight. And Valhalla benefits from Viking's ability to manufacture the vast majority of all the boat's pieces-parts in-house, as opposed to buying them from outside vendors, so they can keep a handle on quality control.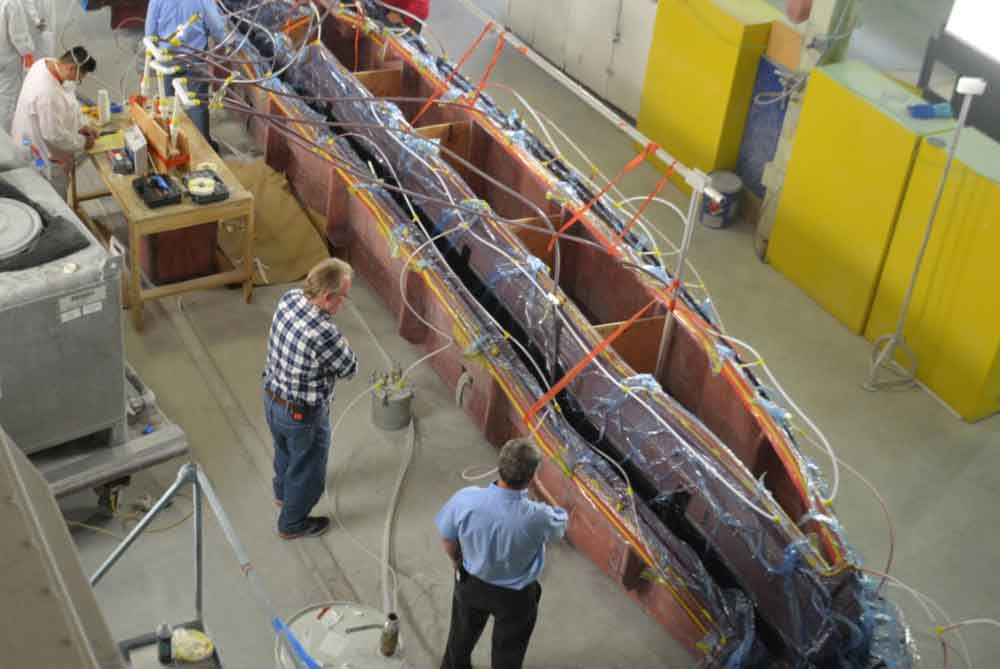 Photo by Valhalla Boatworks

The Valhalla V-37 has some serious tech in the build process, including a resin-infused structural grid.

All that sounds great, but of course, you need to jump onto the deck, open and slam some hatches, and go for a sea trial through some rough conditions to feel just how sturdy and well-built a boat is – or is not – for yourself. We've done so on the V-37, and after our on-the-water test we inspected the boat with a close eye for construction detail.

We encountered things like perfectly-fitted hatches that swing up on gas-assist struts, stainless-steel friction hinges, double-clamped hoses, heat-shrink wiring connections, and a T-top on pipework so stout that doing chin-ups on the rocket launchers doesn't produce one micron of wiggling. We're not afraid to say that the V-37 deserves the old "solid as a rock" description no matter how cliché it may be. And if you check out one for yourself, we're thoroughly confident you'll agree.

Comfort on the V-37

As one would hope, there are plenty of comfort-enhancing features to be found on the V-37. The upholstery is plush and diamond-stitched, coaming bolsters line the entire boat, there's a sort of mini-mezzanine built into the back of the helm station seat base, a huge lounge caps off the front of the console, and the bow seats have full-sized backrests. The big surprise comes when you duck into the console compartment, and see just how simple and svelte it is. There's a head, a sink, rod holders, and an extended stowage compartment which some might call a berth (but for the average-sized American, that would be a stretch).




Photo by Valhalla Boatworks

The mini-mezzanine provides a comfy aft-facing bait-watching seat for two.

On many modern boats of this size and nature we've grown accustomed to seeing expanded console cabins with full sleeping accommodations, enclosed head compartments, mini-galleys, and other comfort-boosters. But not in this case. Why? All that stuff comes at a cost, because when you blow out the console to create tons of space inside, you lose deck space. In fact, you can find 30-something center consoles with big console cabins but less deck space than some 20-something models. And in those cases, you may have a fairly large boat that can really only handle a handful of anglers. If you want a cabin boat, buy a cabin boat. But if you want a fishing boat the Valhalla's layout make a whole lot more sense.

Fishing on the Valhalla V-37

Speaking of fishing: Yeah, the V-37s got that covered. The boat we sea trialed had 14 flush-mount rod holders in the gunwales, six behind the helm, six more to the sides of the forward console lounge, and six rocket launchers on the hard top. There are four fishboxes integrated into the deck for your "regular" sized fish, and a mammoth 123-gallon fishbox built into the foredeck that could swallow up 100-plus-pound tunas. And tackle gets stowed in a six-box compartment with rigging tube and knife/pliers holders built into one side of the helm seat base, and three bulk-stowage drawers in the other side.

Live-bait anglers are going to go gaga over the livewell. It holds a whopping 56 gallons, is oval, pressurized, baby-blue inside, and has a hatch that's gasketed, guttered, and latches down tightly so there's zero sloshing and spilling. A second livewell under the forward lounge is optional. Total live-bait nuts can even have a third well plumbed in the cockpit deck.




Photo by Valhalla Boatworks

Ready to fish? The V-37 certainly is.

Final Word on the Valhalla V-37

In a world full of vanilla fishing boats, the V-37 is one you won't have trouble finding in a crowd. Yes, it is an expensive boat for its size. And no, you won't be getting a luxury cabin. But if you want a boat that offers spectacular performance, top-notch construction, and the ability to fish competitively with the big dogs, this is one you'll want to check out.

Other Choices

The HydraSports 38 Speciale (now built by HCB Custom Yachts) is another potent performer that runs on triple outboards and has a wide range of stand-out characteristics. Interested anglers may also want to check out the Everglades 355 T.

See Valhalla V-37 listings for sale at boats.com.

Specifications

LOA – 36'9"
Beam – 10'0"
Draft – 2'0"
Displacement – 16,623 lbs.
Transom Deadrise – 24 degrees
Fuel Capacity – 470 gal.