See more articles
Video: Take a Ride on the J/88
The boats.com team took a ride on the new J/88 with Jeff Johnstone of J/Boats. We asked him a few questions.







John: How many does it take to crew?

Jeff: You can sail it with two, and it can hold eight.

John: And how fast have you gone?

Jeff: Top speed, 14.8 knots in 20 knots of breeze.

The design has a modest beam, 9'6". It weighs 5000 lbs, with 2200 of that in the keel, which draws 6.5 feet. Getting underway was straightforward. We sailed upwind in about 10 knots of breeze plus or minus, going about 6.5 knots on average.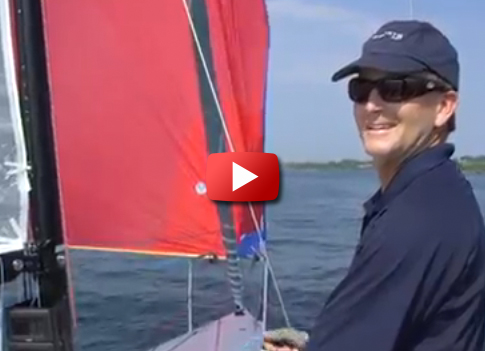 When I was driving, I felt the helm was quite balanced. When Carol was diriving, she's sailed the J/70, which is about 6 feet shorter, she said it feels like a big one.

Even in about 10 knots of breeze the boat accelerated really well, and when we got a little bit of a puff or heated it up, we could make the wake go flat.

The boat has a weekender layout; 3 bunks, a very basic galley, sitting headroom.

The sailaway price for the J/88 is about $150,000. If you don't see one on the water this summer, you can find one at boat shows, and you can read our full review on boats.com.