See more articles
Viking 66: Non-Conformist With Attitude
Nothing about this luxury offshore sportfisherman bows to a Spartan viewpoint.
Viking's new 66 Convertible might be great for backing down on billfish, but it won't back down one iota in the face of competition. Thanks to the "new normal" economy, fuel prices, and a sudden desire on the part of the One Percent to seem a bit less pretentious, many of the new offshore battlewagons produced these days have scaled down the powerplants they carry, and the grandeur they project. But not the new Viking. You say you don't want to settle for less, merely because the rest of the world thinks you should? Then this boat's built for you.





With a pair of V16 MTU diesel powerplants generating 4,060 horsepower in its belly, hull number one of the 66 Convertibles (one of two new 66' models) tops out at 41.9 knots, maintaining and exceeding the 40-knot benchmark that gold-plater sportfishing boats of this size were driven to attain during the best of economic times. Cruising at a mellow 31 knots, the 66 can trot along while burning 100 gph to attain about 0.31 miles to the gallon. Humbled? Forgeddaboudit.

The interior of the 66 is also anything but dialed back. Doors feature wood crafted so that the grain creates a diamond pattern. Galley and head countertops are solid granite. A 40-inch flat-screen TV rises up from inside teak cabinetry --  and the electric saloon door slides open at the press of a button.

Accommodations include a four-stateroom, four-head layout (one of the heads is just inside of the saloon door, for convenient day use), but my favorite perk is the walk-in pantry just forward of the galley. It'll stow a month's worth of food, and combined with the under-counter refrigerator/freezer, the cockpit freezer, and an additional flybridge brow freezer, you'll have the ability to stock this boat up and go fishing for a month straight in just about any corner of the globe.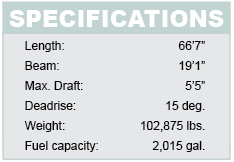 Another thing that sets the 66 apart from many of today's sportfishing boats is smart design. Just looking good isn't good enough, so Viking incorporated several cutting-edge developments into the 66. They installed a central raw-water intake system which feeds the AC, livewells, ice makers, and raw-water washdowns via a pair of Scott pool pumps. Resin infusion is used extensively throughout the boat to minimize weight while maximizing strength, while the hull itself is cored with vacuum-bagged end-grain balsa. Viking used their proprietary Viper (Viking Independent Programmable Electro-hydraulic Rudder) steering system on this boat, which enhances handling while reducing drag; in fact, you can crank the wheel hard over at high speed and pull a U-turn in about two boatlengths. And power distribution comes via an Octoplex touch-screen system that controls both AC and DC via panels located in the saloon and at the helm.

The Viking 66 Convertible has a "new normal" all right, but it's one that Viking created all by themselves. It's faster, stronger, smarter, and better than yesteryear's boats. And it sure as heck isn't humble.

Other choices in this range include the Hatteras GT63 and Bertram 630.

For more information, visit Viking Yachts.