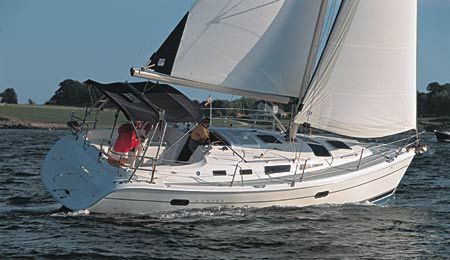 Hunter Marine has long been one of the world's top builders of production cruising sailboats. With its latest release, the Hunter 356 midsize cruiser, the Alachua, Florida-based company has set out to take the product line to a higher level.

The 356 is a well-balanced combination of looks, room and speed that marks the first of the new generation of Hunters.

The Hunter 356 has a fractional sloop rig with a 110 percent headsail and optional in-mast furling. Roller furling on the headsail is standard.

A choice of two keel depths is available. The bulb-wing shoal draft measures 5 feet even and the deep-draft keel is 6 feet, 5 inches.

A broad 12 foot beam creates generous space both topside and belowdecks. The boat has a 35 foot, 6 inch length overall -- with 30 feet, 7 inches of that being at the waterline.

The 356 makeover began with a new hull by designer Glenn Henderson, who is known for the Henderson 30 as well as other performance sportboats. Hunter wanted a boat that could perform in all kinds of weather -- not necessarily a flat-out race boat, but one that could hold its own in anything from a beer can race to a regatta.

Henderson produced a hull that comes back very wide at the transom, but most of which is above the waterline. A special "reflex" design underneath allows the hull to think it's a narrower boat, therefore creating less drag. The Hunter 356 leaves surprisingly little wake.

One hull feature we hope you won't ever need to appreciate is the protective Kevlar layup in the forward section. It extends from the stem back to the keel sump -- the most likely area to be punctured if you hit something. Think of this Kevlar as a bulletproof vest for your boat.

Another unique construction feature is the composite rudder. It's impervious to corrosion, plus it's lighter and stronger than conventional materials.

Hunter's hull-to-deck joint is practically bulletproof, too. The flange is first sealed with 3M's 5200 marine sealant, then is through-bolted, not screwed, on 6 inch centers. A heavy-duty rubrail track is then screwed in on 6 inch centers between the bolts, and a stainless rubrail is put in place.

Stacking the Deck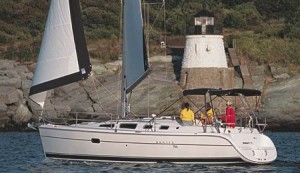 The deck layout of the 356 has more room than you'd usually find on a boat this size. A stainless steel arch keeps the cockpit as open as possible. That's where the mainsheet's attachment is, so it's close to the end of the boom -- not midway -- for better control.

Hunter's use of two spreaders and reverse diagonals eliminates the need for a backstay. The B&R rigging lets the lower stays move inboard and the upper stays attach outboard of the walkway, giving excellent passageway fore and aft. The strut arrangement also allows for a smaller-diameter mast, keeping the center of gravity lower to minimize pitching.

Molded two-tone skid-resistant decking and stainless steel grabrails are standard.

At the bow, you'll find a pair of anchor rollers. One holds a standard Delta plow anchor and the other is available for whatever second anchor you choose to deploy. Inside the anchor locker, there's space for an optional windlass and plenty of rode.

The 356 can easily be handled by a crew of two, especially if you opt for the in-mast mainsail furling. It's well worth the minimal additional cost: All lines can be worked from the cockpit.

Deck hardware is all top of the line: Harken, Lewmar, Spinlock, Profurl and Schaffer. Also, Hunter has begun using Whitlock steering -- a superior rack and pinion system that eliminates the sloppiness of cables.

Raymarine ST40 depth and speed instruments on the wheel console are standard, as is a Raymarine VHF radio mounted in the cabin.

The cockpit has generous storage capacity underneath the aft seating and on the transom. There's also a cavernous space to port that's big enough to hold optional genset and air conditioning units, along with a water-maker and extra batteries, not to mention a toolbox and spare parts.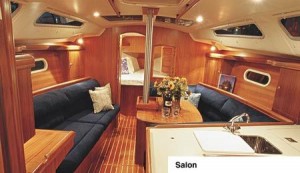 The cockpit table folds out from its vertical storage position along the centerline. The helm seat flips back to form steps down to the transom. A three-rung telescoping ladder makes boarding from the water easy.

An Upscale Cabin

The cabin of the Hunter 356 is where you'll really notice the difference in the way Hunter's boats are now being built. There's a definite upscale look and feel.

While the joinery on older models was simply utilitarian, with hard corners and angles, it is softer and rounder on the 356. Bullnose moldings, detail features and upgraded hardware on the cabinetry say "quality."

The saloon features an attractive teak and holly sole that's polished to a high gloss. It contrasts with the soft feel of the upholstery and the cabin curtains.

The convertible dinette can sleep two -- and another guest can bunk on the settee opposite it. This is in addition to the double berth forward and the queen-size berth aft in the master suite. That queen-size berth takes standard-size sheets, and boasts an innerspring mattress.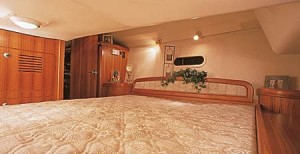 Headroom throughout the Hunter 356's cabin is a generous 6 feet, 5 inches, for the most part. Even in the head, with its separate stall shower and the stand-up area in the forward part of the master suite, just about everyone can get around without stooping over.

There's plenty of storage space, too, with a pair of hanging lockers forward and one aft, plus drawers in each of the sleeping compartments. A large navigation table, aft and to port in the saloon, will accommodate full-size NOAA charts -- and there's room on the bulkhead above it to install electronics.


The galley on the 356 has an L-shaped Corian countertop. A double basin stainless steel sink is set into the counter, along with a two-burner propane stove and optional refrigerator and freezer units.

Teak fiddles around the counter's perimeter are sturdy enough to double as handholds. A microwave oven mounted in the bulkhead is standard equipment -- and so is pressurized hot and cold water.

It's interesting to note that the entire cabin of the 356 is actually built outside the hull. Hunter uses a modularized cabin construction technique, developed by Hunter's parent company, Luhrs Marine Group.

Three sections are fiberglassed to a grid along the bottom and to each other to form a solid unit. There are significant labor cost savings doing it this way, and it's those dollars that are put back into the boat in the form of upgraded components and materials.

The quality definitely shows.

CONTACT: Hunter Marine Corp.; Alachua, FL; (800) 771-5556; www.huntermarine.com

Specifications
| | |
| --- | --- |
| Length | 35 ft. 6 in. |
| Beam | 12 ft. |
| Draft | 6 ft. 5 in. (deep keel); 5 ft. (shoal keel) |
| Weight | 13,900 lbs. |
| Sail area | 721 sq. ft. |
| Bridge clearance | 55 ft. 3 in. |
| Fuel capacity | 38 gals. |
| Water capacity | 75 gals. |
| Sleeps | 6 |
| Power | 27 hp Yanmar freshwater-cooled diesel |
| Base price | $110,790 |
| Price as tested | $124,756 |

QUESTIONS FOR YOUR DEALER
What are the sail plan options?
What generator and power packages are available?
What are the Bimini and dodger options?

CONSTRUCTION
Fiberglass bottom reinforced with Kevlar from the stem to the keel sump, cored from boot stripe to sheerline with Baltek. Deck is Baltek and plywood-cored fiberglass.

STANDARD FEATURES
Windex wind vane; stainless steel arch; hot water heater; hot/cold cockpit shower; VHF radio; Raymarine ST40 knotmeter w/log; Raymarine ST40 depth sounder w/alarm.

OPTIONS ON TEST BOAT
Bimini top; in-mast furling system; LPG stove w/oven; refrigerator/freezer; Raymarine ST60 wind machine.

COMPANY PROFILE
Years in business: 30 (Hunter division)
Number of employees: 400
Boat lines: Luhrs Marine Group builds Hunter, Luhrs, Silverton and Mainship lines

TESTER'S OPINION
"The 356 is a spirited boat that handles very well. Hunter has put considerable effort in making it safe and easy to work -- and comfortable for both short and long-distance cruising. I was especially impressed by the Whitlock steering's tight, responsive feel. It was much like a sports car. For anyone who subscribes to the age-old belief that sailing is hard work, take a test ride on this new Hunter."