See more articles
Yellowfin Yachts 36: Rapid Response
This center console is ready for fast action and close-quarters combat with pelagic predators.
We have 1,050 horses of screaming Mercury madness on the transom, the throttles are set to cruise, and we're heading towards the fish at highway speeds. Then the captain slams those throttles down to wide-open, and we experience a head-snapping acceleration akin to a space shuttle launch—there's some serious power back there, and in a matter of seconds we're frying the water at 70 mph. You want to be the first guy to the hotspot, each and every time you go fishing? All you need is a Yellowfin Yachts 36.





War Horse
Like the Stryker fighting vehicle, the Cobra gunship, or the F-22 Raptor stealth fighter jet, the Yellowfin 36 is designed to beat the competition to the punch and pack one heck of a wallop as it does so. The hull rides on a twin-stepped design, which aerates the bottom to reduce drag. A pad at the stern boosts planing surface area beyond that provided by the 22-degree variable deadrise while helping the boat stay on an even keel, and the hull gets tweaked out with a pair of High Performance trim tabs. Net result? This sucker flies like the wind—cruising along at a mellow 4000 rpm you'll be going faster than most boats' top-end, at 45-mph. Juice it up to a still-reasonable 4500 rpm and you'll cut the waves at over 50-mph. Nail the throttles and after you recover from the initial shock, you'll see speeds in the low 70's. Both my thrill rides on a Yellowfin Yachts 36 included a hefty crew (of at least six people) and/or full fuel tanks, so these are heavy-load numbers; leave the extra baggage at home and this boat will go several mph faster.

This kind of extreme performance shouldn't come as a surprise when one considers the fact that Yellowfin's president, Wylie Nagler, has his boating roots in the offshore racing circuit. Of course, slapping massive amounts of horsepower onto the transom helps. The downside? Fuel economy, of course, which isn't what you'd call miserly with triple 350-hp Mercs. Still, the boat does get better than a mile to the gallon through much of the rpm range -- 1.1 to 1.5 mpg depending on how hard you're running, falling below one mpg only when you go beyond 5000 rpm. Comparisons between twin and triple rigs of equal total horsepower have, in the past, proven that triple rigs are actually a tad more efficient than twins.



Getting to your destination fast is, of course, only half the battle. Then it's time to break out the rods, and see just how well the boat can fish. While we didn't have the chance to actually pursue piscatorial pleasures either time I was aboard, the angling accommodations are obvious: Standard features include a 50-gallon livewell which is integrated into the transom and fed by a 1,100-gph pump. The T-top and gunwales each support a quartet of rodholders. There's a pair of nine-foot locking rodboxes, and the catch can be stowed in a 530-quart macerated fishbox.

Our test boat, owned by a professional fishing guide, also supported plenty of extras: an 80-gallon livewell under the aft-facing leaning post seat, multiple gunwale rodholders from bow to stern, and a line of transom holders. But the best one—get this, if you're ever presented with the choice—was the above-deck "coffin-box" style fishbox. It not only enhances your fish-hauling capability, it also provides excellent seating in the voluminous bow. Does it cut into fishing space? Nah, not a bit. There's plenty of room 360 degrees around the coffin-box, and when you turn this boat's beam into the seas for drift fishing, you'll have no problem lining a half-dozen anglers along the gunwale.

Another area that's not problematic: finding room for electronics. One of the 36's I ran was Simrad's test-bed, and it was outfitted with every electronic item that company makes for a recreational fishing boat—and then some. A whopping-big 15" multifunction display, a second 10" screen, a VHF radio, and an autopilot head control all fit in the electronics flat, and the console housed a dozen-odd black-box brains for the different systems. Best of all, there was plenty of room in the console for a portable head, plus extra stowage.



Heavy Metal
If you plan to run fast and hard, you've got to have the beef to take it. Yet the Yellowfin 36 weighs in at only 9,500 pounds, which is a couple thousand pounds less than comparably-sized center console fishboats. What gives? Construction is all-composite, with Core-Cell coring that boosts stiffness while cutting weight. Resins used in the laminate are 100-percent vinylester. The T-top has thick aluminum supports and plenty of them. Hatches are finished on all surfaces, dash switches are lighted rockers, and cushions are thickly-padded. Every component of the boat screams of quality, and the net result is found when you careen off of a wave, catch air, and re-enter on the face of another wave—there are no thumps, rattles, or groans. One of the days I was on the Yellowfin 36 it was blowing a steady 15 knots and a three- to four-foot sea sloshed around off of Miami Beach, yet maintaining a 50 mph cruise was downright comfortable. And when we goosed it up to top-end, we still had an enjoyable ride. The Yellowfin also has a good amount of flare in the bow, and we caught remarkably little spray both going into and running with the seas.

One of the nice things about dealing with an independent company like Yellowfin, as opposed to a mass-production builder, is that you can have a choice in some of the construction and design components. Want to choose a canvas T-top instead of a fiberglass hard top or add a crow's nest? No problem. Think multiple console arrangements with front or side entries and different electronics flats would be nice? Yellowfin obliges. Prefer leaning posts with and without rear-facing seating and/or tackle stations? Of course there are several options for these, as well.

The downside to this semi-customization comes when you're buying or selling a used Yellowfin. You might have a hard time locating exactly what you want (or finding a buyer who wants exactly what you have). Pricing can also vary quite a bit, from around $225,000 on the low end to $300,000 on the high end, depending on how the boat's laid out, rigged, and powered.

At least you'll know one thing for sure, regardless of the details: when you're running a Yellowfin Yachts 36, you're going to get to that hotspot first—each and every time you go fishing.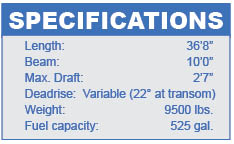 Other Boats to Consider

Jefferson Marlago 35, Deep Impact 36 (Read Deep Impact 36: High Speed, High Performance Catches on Yachtworld.com), Fountain 38 CC Open

For more information, visit Yellowfin Yachts. Also check out the Yellowfin Owner's Group on Facebook.




Lenny Rudow has been a writer and editor in the marine field for over two decades and has authored five books. He runs his own web site at HookedOnFishingBoats.com and writes weekly for Boats.com reviewing new models and covering marine electronics.